The Last O.G.
Tracy Morgan wurde für die neue TBS-Comedy "The Last O.G." als Hauptdarsteller verpflichtet. Das Konzept stammt von John Carcieri ("Key & Peele") und Jordan Peele ("Eastbound and Down"). Die Premiere fand am 31. März 2018 bei TBS statt. In Deutschland erfolgte die Ausstrahlung ab dem 7. Juni 2018 beim Pay-TV-Sender TNT Comedy.

---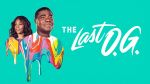 Tiffany Haddish & Tracy Morgan, The Last O.G.
© Turner Entertainment Networks, Inc. A WarnerMedia Company. All Rights Reserved.
Serienmacher: John Carcieri & Jordan Peele
US-Ausstrahlung: ab 31. März 2018 auf TBS
D-Ausstrahlung (Pay-TV): ab 7. Juni 2018 auf TNT Comedy
Staffeln:

Staffel 1 (10 Episoden)
Staffel 2 (10 Episoden)
Staffel 3 (10 Episoden)
Staffel 4 (?? Episoden)

Status: verlängert um Staffel 4

Partnerlinks zu
News zur Serie:

---

Im Zentrum von "The Last O.G." steht ein Mann (Tracy Morgan), der nach 15 Jahren aus dem Gefängnis entlassen wird und sich nun an eine moderne Welt mit Internet, selbstfahrenden Autos und politischer Korrektheit gewöhnen muss.


Im Hauptcast von "The Last O.G." spielen:

Taylor Mosby
Allen Maldonado
Ryan Gaul
Externer Inhalt
An dieser Stelle ist Inhalt von einer anderen Website (z. B. YouTube, Twitter...) eingebunden. Beim Anzeigen werden deine Daten zu der entsprechenden Website übertragen.
Kommentare
Meistgelesen
Aktuelle Kommentare

24.09.2021 10:25
Ich habe es gestern bis Episode #4.04 geschafft und...
von Lena

21.09.2021 20:56
Bin aktuell bei der vorletzten Folge und kann dir...
von Chili vanilli
mehr Kommentare
Verpasst keine News und Updates