DVD Rezension: 24, Staffel 3

Inhalt
Seit dem Ende von Tag 2 sind drei Jahre vergangen – Jetzt ist Bauer zurück in Los Angeles. Zurück von einer Undercover-Mission, in welcher er den Schwerverbrecher Ramon Salazar festgenommen hatte. Doch dann erhält das FBI einen anonymen Anruf, der eine Forderung verbirgt: Salazar soll innerhalb von sechs Stunden freigelassen werden, andernfalls wollen die Terroristen ein tödliches Virus freisetzen. Nach einigen Ermittlungen wird Jack klar, dass es nur einen Weg gibt, das Virus zu finden; er muss Salazar befreien.

Rezension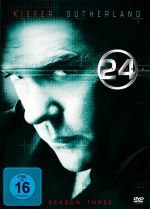 © Twentieth Century Fox Home Entertainment
Schön, dass man auf Kontinuität baut: Die Verpackung der dritten Staffel ergänzt sich optimal sowohl optisch als auch größentechnisch mit den anderen zwei Staffeln. Wieder einmal hat man sich für die aufklappbare Plastehülle mit sechs Steckplätzen für die Disks entschieden, welche erneut in einen gleich aussehenden Karton geschoben wird. Ebenfalls wird erneut ein Booklet mit stichhaltigen Infos zu den jeweiligen Episoden mitgeschickt, sowie eine Bonus-DVD mit eigener Hülle. Ähnlich wie bei der DVD zur zweiten Staffel sind zahlreiche Extras vorzufinden: 45 bisher unveröffentlichte Szenen; "24 On the Loose"-Featurette; "Boys and their Toys"-Featurette; "Biothreat: Beyond the Series"-Featurette; Multi-Angle-Studie sowie Audiokommentare zu bestimmten Episoden und ein Inside Look.

Die Bildqualität hat sich verbessert, die Farben wirken jetzt kräftiger und die Kontraste differenzierter. Was den Ton angeht, bleiben eigentlich keine Wünsche offen. Der gute 5.1 Sound sowohl in deutsch als auch in englisch ist mit der richtigen Technik wirklich ein Erlebnis und zudem sehr empfehlenswert. Wie schon bei der zweiten Staffel gibt es wieder eine Untertitelspur für Hörgeschädigte.

Das Menü wirkt bereits wie in Staffel zwei deutlich "steifer" als bei der ersten Staffel. Aber das kann man verzeihen.

Technische Details
FSK: 16
Laufzeit: ca. 1080 Min. (24 Episoden) + 180 Minuten Zusatzmaterial
Bildformat: 16:9
Tonformat/Sprache: Deutsch Dolby Digital 5.1; Englisch Dolby Digital 5.1
Untertitel: Englisch, Deutsch, Deutsch für Hörgeschädigte

Fazit
Auch wenn die erste Hälfte eher wenig gehaltvoll ist, steigt die Spannung in der zweiten Hälfte richtig an und leitet die Staffel schlussendlich mit einem aufregenden Finale ab. Erstmals kommen bei 24 Biowaffen zum Einsatz: die Umsetzung dieser Thematik ist in dieser Staffel durchaus gelungen und bringt die Atmosphäre und die Angst vor einer Infizierung sehr gut an den Mann. Von daher ist diese Staffel auch für Leute geeignet, die weniger auf Explosionen und großes Kabumm stehen.

Patrick Arnold - myFanbase

Meistgelesen
Aktuelle Kommentare

24.11.2020 21:12
Ah, entschuldige bitte! Das ist, wenn man sich einredet,...
von Lena

24.11.2020 11:05
Ich fand die Episode unterm Strich auch sehr gut. Ritter...
von Lena
mehr Kommentare
Verpasst keine News und Updates