Staffel 4 von "The Good Doctor" erscheint im Oktober 2021 auf DVD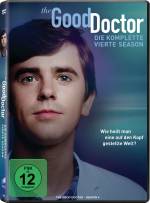 The Good Doctor
© 2020, 2021 Sony Pictures Television Inc. and Disney Enterprises, Inc. All Rights Reserved.
Fans der Serie "The Good Doctor" und die noch nicht in den Genuss der vierten Staffel gekommen sind, sollten sich jetzt einen Stift zur Hand nehmen. Am 21. Oktober 2021 wird die komplette Staffel auf DVD veröffentlicht.

Die komplette vierte Staffel von "The Good Doctor" jetzt bei Amazon vorbestellen

Die Box ist ab 12 Jahren freigegeben und bietet eine Spieldauer von ca. 14 Stunden. Die 20 Episoden sind auf fünf DVDs aufgeteilt. Als Sprachauswahl werden Deutsch, Englisch, Französisch und Italienisch angeboten. Als Untertitel stehen Deutsch, Englisch, Französisch, Italienisch und Niederländisch zur Verfügung. Als Bonusmaterial werden entfallene Szenen, Outtakes und mehr angeboten.

Das erwartet die Fans in der vierten Staffel: Dr. Shaun Murphy (Freddie Highmore) ist ein junger Chirurg mit Autismus und Savant-Syndrom, der seine außergewöhnliche medizinische Begabung in der chirurgischen Abteilung des St. Bonaventure Hospital unter Beweis stellt. Während seine Liebesbeziehung zu Lea (Paige Spara) ernster wird, stehen ihm als Assistenzarzt im vierten Jahr neue Aufgaben bevor. Ihm wird die Verantwortung für eine neue Gruppe von Assistenzärzten übertragen, was ihn in vielerlei Hinsicht auf die Probe stellt. Das Team muss mit der Ungewissheit und dem Druck umgehen, den die COVID-19-Pandemie mit sich bringt, die das Krankenhaus in Atem hält.

Die vierte Staffel der Serie wird momentan freitags in Doppelfolgen bei VOX ausgestrahlt.

Alles Weitere zu "The Good Doctor" findet ihr bei unseren Serien A bis Z.
Externer Inhalt
An dieser Stelle ist Inhalt von einer anderen Website (z. B. YouTube, Twitter...) eingebunden. Beim Anzeigen werden deine Daten zu der entsprechenden Website übertragen.
Quelle: Sony Pictures Entertainment Deutschland GmbH
Daniela S. - myFanbase
08.09.2021 12:06
Weitere News
mehr News
Meistgelesen
Verpasst keine News und Updates