Kurz & Knapp: The Time Travelerís Wife, The Good Doctor, Percy Jackson And The Olympians, Poker Face, Ted Lasso, Life & Beth, Younger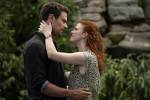 Theo James, Rose Leslie, The Time Traveler's Wife
© 2021 Home Box Office, Inc. All rights reserved. HBO® and all related programs are the property of Home Box Office, Inc.
Lest hier die Kurzmeldungen des Tages:

Sky Atlantic HD hat die Serie "The Time Traveler's Wife" für den 16. Mai 2022 angekündigt. Pro Woche gibt's eine neue Episode zu sehen, die dann auch im Originalton und synchronisierter Fassung bei Sky Ticket und Sky Q verfügbar sein wird (Jetzt Sky Ticket sichern!).
Für die aktuelle fünfte Staffel von "The Good Doctor" wurde Newcomerin Hollis Jane Andrews für eine längere Nebenrolle gecatstet. Sie wird die kleinwüchsige Dokumentarfilmerin Sophie spielen, die sofort von Shaun (Freddie Highmore) und dessen Verlobter Leah (Paige Spara) begeistert ist. Nähere Informationen liegen nicht vor.
Für die Disney+-Serie "Percy Jackson And The Olympians" wurde Walker Scobell für die Hauptrolle Percy Jackson verpflichtet.
Joseph Gordon-Levitt wurde für die Peacock-Mysteryserie "Poker Face" verpflichtet. Details zur Rolle sind jedoch nicht bekannt.
Jodi Balfour ("For All Mankind") wurde für eine Nebenrolle in der dritten Staffel von "Ted Lasso" verpflichtet. Sie wird Jack spielen. Bei dieser handelt es sich um eine charmante Risikokapitalgeberin.
Hulu hat die Serie "Life & Beth" von und mit Amy Schumer um eine zweite Staffel verlängert.
Ab dem 4. Mai 2022 ist die siebte und finale Staffel von "Younger" um 22:10 Uhr in Doppelfolgen bei sixx zu sehen.
Quelle: Sky Atlantic HD, Deadline, TVLine, Variety, sixx
Daniela S. - myFanbase
13.04.2022 23:13
Weitere News
Meistgelesen
Verpasst keine News und Updates