Lauren Cohan und weitere für Netflix-Zeichentrickserie "Twilight of the Gods" an Bord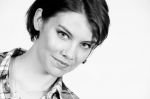 Wie während der Geeked Week von Netflix angekündigt, hat die Zeichentrickserie "Twilight of the Gods" ihren Cast vorgestellt und dazu ein Foto getwittert (siehe unten).

Verpflichtet wurde: Lauren Cohan als Inge, Sylvia Hoeks als Sigrid, Stuart Martin als Leif, Pilou Asbæk als Thor, John Noble als Odin, Paterson Joseph als Loki, Rahul Kohli als Egill, Jamie Clayton als the Seid-Kona, Kristofer Hivju als Andvari, Peter Stormare als Ulfr, Jamie Chung als Hel und Corey Stoll als Hrafnkel.


Externer Inhalt
An dieser Stelle ist Inhalt von einer anderen Website (z. B. YouTube, Twitter...) eingebunden. Beim Anzeigen werden deine Daten zu der entsprechenden Website übertragen.
Quelle: Entertainment Weekly, @NetflixGeeked via Twitter
Daniela S. - myFanbase
14.06.2021 00:44
Weitere News
mehr News
Meistgelesen
Verpasst keine News und Updates