Warner Bros. enthüllt Trailer für "Die Sopranos"-Prequel-Film "The Many Saints of Newark"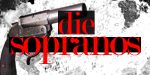 Warner Bros. hat ein Trailer samt Starttermin für den "Die Sopranos"-Prequel-Film "The Many Saints of Newark" enthüllt. Der Film wird am 1. Oktober 2021 in den US-Kinos und zeitgleich beim Streamingdienst HBO Max zu sehen sein. In Deutschland wird der Film bereits am 23. September 2021 zu sehen sein.

"The Many Saints of Newark" geht einige Jahrzehnte zurück und zeigt während der 1960er-Jahre den Machtkampf der Gangsterbanden mit italienischer beziehungsweise afroamerikanischer Abstammung in Newark, New Jersey um die Vorherrschaft der kriminellen Unterwelt. Im Mittelpunkt steht das Mafiamitglied Richard "Dickie" Moltisanti (Alessandro Nivola) der berüchtigten Soprano-Crew, die von "Johnny Boy" Soprano (Jon Bernthal) als Teil der DiMeo-Mafiafamilie gegründet wurde. Sein Sohn, der junge Tony Soprano (Michael Gandolfini) eifert seinem großen Idol Dickie nach, während er seinen Platz im Familiengeschäft der Sopranos sucht.


Externer Inhalt
An dieser Stelle ist Inhalt von einer anderen Website (z. B. YouTube, Twitter...) eingebunden. Beim Anzeigen werden deine Daten zu der entsprechenden Website übertragen.
Quelle: Warner Bros.
Daniela S. - myFanbase
30.06.2021 22:38
Weitere News
mehr News
Meistgelesen
Verpasst keine News und Updates