Exclusive interview with Joelle Carter
Feb 3, 2012 | Joelle Carter plays the role of Ava Crowder on the Kentucky crime drama "Justified". In our last interview she talked about basics of herself and her character and this time she speaks about season 3 which is airing right now on FX.

---
Note: © myFanbase 2011 - The interview is exclusive to myFanbase and may not be published on other websites or the like. You may share the first 2 questions or up to 160 characters if you link back to this site. Translations other than English and German may be posted with full credit including the writer's name and link to this site.
---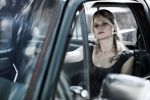 Joelle Carter, Justified
© Frank Ockenfels III / FX
1. In season 2 Ava had some scenes with Helen Givens who advised her to stay out of her man's criminal activities. Still Ava chose to get involved. Why do you think she did that? She seemed to respect Helen so much.

I really miss Helen on the show, and I know Ava does too. Ava loved and admired Helen but Helen and Arlo where in a very different relationship than Ava and Boyd. Arlo was always a loose cannon and Boyd is a very controlled time bomb. I think when you're in love, you can justify just about anything and Ava fell in love with Boyd in season two.

2. In our last interview you said there is always a chance for love in Ava's life. Now that Boyd and Ava found each other do you think there is also a chance for happiness for them?

I sure hope so! I love their slow journey to really finding each other. Boyd is like no other man in Ava's life. He is so kind and present for Ava. He puts her first and loves her. This may be the support Ava needs to find out what she is really capable of in life.

3. Boyd went back to his criminal ways and Ava accepts that. But how far is she willing to go? Are they going to be a little bit like Bonnie and Clyde?

Walton (Goggins) loves this story line – he says it is so poetic and I agree with him. Two people from such violent pasts finding love at this stage in the game … I don't think it's ever existed on TV before. You will be surprised how far Ava might go to support her man and his new dreams for the future. The show writers told me this season is about the character's crossing lines they have mentioned they probably never would. Bonnie and Clyde watch out here come Ava and Boyd!

4. What do you think about the role of the women on the show? With Mags we had the brutal matriarch, Winona seems a little erratic and insecure. When Ava recovers from her gunshot wound what role is she going to claim for herself?

I think Ava is going to claim a little respect in this town. With Boyd trying to reclaim power in Harlan, Ava has a huge desire to be the woman behind her man and along the way discovers she may be the woman beside her man.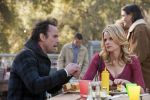 © Sony Pictures Television
5. In our recent interview with Walton Goggins he said Boyd is a leader. Do you think he is a man who can really accept a woman as his equal partner?

I sure hope Boyd can accept a woman as his equal, and wouldn't that be just another incredibly rich layer to add to a character like Boyd.

6. How does Ava feel about Raylan now? After the break up she was angry but is she now really indifferent towards him?

I love that Ava and Raylan have this short-lived romantic past. I think they were two people who needed a break from reality in season one. They were sexually amazing together and that attraction doesn't just die. What makes for great conflict is that now their loyalties have changed. I think Raylan will always want the best for Ava in a papa bear kinda way. AND of course Ava will always want to be able to get under Raylan's skin a little. It's fun to keep their desire for each other alive.

7. There are going to be new villains on the show in season 3. What can we expect from them? Is there another family like the Crowders and the Bennetts?

Well, there is always Boyd but is he good or evil, friend or enemy? To answer your question – yes. We do get a nasty taste of an outsider, Neal McDonough, a Detroit-based oxy peddler who is hoping to come into Harlan and stir things up a bit. And then there is the wonderful Mykelti Williamson, who plays a character named Limehouse, that we call the Godfather of his side of the tracks. It's wonderful to see yet another side of Kentucky in Limehouses' world.

8. What is your favorite moment of season 1 and 2?

For season 1, I would say the opening scene in the pilot that introduces Ava, and reunites her with Raylan. It is Elmore flavor at its best! Season two may be when Ava and Boyd finally accept they may just be dealing with something bigger than the both of them… love. Ava finds Boyd staying at her house and she basically tells him that she isn't letting him go.

9. When you are shooting the season do you spent more time with Walton Goggins or Tim Olyphant in character or as yourselves? Do you ever tend to confuse certain aspects of the person with aspects of the character the other is playing?

Because of the shooting schedule, we're mostly in character when on set and I tend to spend more time with Tim and Walton. I also think we all bring a lot of ourselves to our characters, but we certainly separate the two when on set.

Nicole Oebel - myFanbase

Meistgelesen
Aktuelle Kommentare
Verpasst keine News und Updates