"Breaking Bad"-Star Aaron Paul festes Castmitglied in Staffel 3 von "Westworld"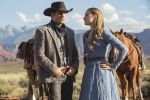 James Marsden & Evan Rachel Wood, Westworld
© 2016 Home Box Office, Inc. All rights reserved. HBO® and all related programs are the property of Home Box Office, Inc.
Obwohl es noch dauern wird, bis Staffel 3 von "Westworld" beim Kabelsender HBO startet, wurde schon jetzt ein neues Castmitglied bekannt gegeben.

Wie Deadline meldet, wurde Aaron Paul für eine Hauptrolle in der dritten Staffel verpflichtet. Bisher werden Details über seine Rolle aber noch unter Verschluss gehalten.

Paul wurde den Zuschauern durch seine Rolle in der Serie "Breaking Bad" bekannt. In Deutschland ist "Westworld" bei Sky Atlantic HD zu sehen.
Externer Inhalt
An dieser Stelle ist Inhalt von einer anderen Website (z. B. YouTube, Twitter...) eingebunden. Beim Anzeigen werden deine Daten zu der entsprechenden Website übertragen.
Quelle: Deadline
Daniela S. - myFanbase
14.09.2018 14:07
Weitere News
mehr News
Meistgelesen
Verpasst keine News und Updates