Margaret Colin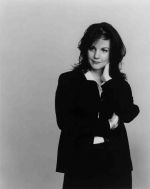 Margaret Colin
Margaret Colin wurde am 26. Mai 1958 in Brooklyn, New York, USA geboren. Aufgewachsen ist sie auf Long Island und besuchte 1976 die Baldwin High School in New York. Nach ihrem Abschluss an der Hofstra University, startete sie mit der Schauspielerei und wirkte 1979 sieben Monate in der Soap "The Edge of Night" mit, in der sie die ehemalige Terroristin Paige Madison spielte. Anschließend nahm sie eine Rolle in der Serie "Jung und Leidenschaftlich - Wie das Leben so spielt" an, in der sie zwei Jahre blieb.

Während ihrer Schauspielkarriere spielte sie in zahlreichen Primetime-Serien mit. So sah man sie 1988 in "Magnum" oder 1999 an der Seite von Eric Close und Dennis Haysbert in "Now and Again". Für ihre Darstellung in dieser Serie erhielt sie 2000 den Saturn Award. Außerdem spielte sie 1994 in einigen Episoden von "Chicago Hope - Endstation Hoffnung" mit.

Natürlich wurden auch die Filmstudios auf die Schauspielerin aufmerksam. 1986 sah man Colins in der Krimikomödie "Gefährliche Freundin", ein Jahr später in "Noch drei Männer, noch ein Baby" und schließlich 1996 in dem Science-Fiction-Film "Independence Day" an der Seite von Bill Pullman, Will Smith und Jeff Goldblum. Margaret Colin gehört nicht zu den Schauspielerinnen, die jedes Jahr mehrere Filme drehen, sie konzentriert sich lieber auf ein Projekt.

Seit 2007 spielt sie in der Jugendserie "Gossip Girl" Blairs Mutters Eleanor Waldorf.

Margaret ist mit dem Schauspieler Justin Deas verheiratet, das Paar hat zwei Kinder.

Dana Greve - myFanbase
Ausgewählte Filmographie (Schauspieler)
2009
The Missing Person als Lana Cobb
Originaltitel: The Missing Person
2007 - 2009
Gossip Girl (TV) als Eleanor Waldorf
Originaltitel: Gossip Girl (TV)
2008
iMurders als Carol Uberoth
Originaltitel: iMurders
2007
Happenstance als Beth
Originaltitel: Happenstance
2006
A Broken Sole als Nan
Originaltitel: A Broken Sole
2004
Ein Date mit Hindernissen als Melanie Mackenzie
Originaltitel: First Daughter
2004
Criminal Intent - Verbrechen im Visier (#3.15 Auf der Couch) (TV) als Dr. Eloise Barnes
Originaltitel: Law & Order: Criminal Intent (TV)
2003
Remembering Charlie (TV) als Lori Aiken
Originaltitel: Remembering Charlie (TV)
2003
Law & Order: New York (#4.16 Die gute Mutter) (TV) als Mrs. Krug
Originaltitel: Law & Order: Special Victims Unit (TV)
2002
Untreu als Sally
Originaltitel: Unfaithful
2002
Blue Car - Poesie des Sommers als Diane
Originaltitel: Blue Car
2001
The Wedding Dress (TV) als Madeline Carver
Originaltitel: The Wedding Dress (TV)
2001
The Familiar Stranger (TV) als Elizabeth 'Peachy' Welsh
Originaltitel: The Familiar Stranger (TV)
2001
Scheidung auf amerikanisch (TV) als Ellen
Originaltitel: Private Lies (TV)
2000
Madigan Men (#1.01 Pilot) (TV) als Vonda Madigan
Originaltitel: Madigan Men (#1.01 Pilot) (TV)
1999
Future Man (#1.05 Ausgeliefert) (TV) als Lisa Schleigelmilch Wiseman
Originaltitel: Now and Again (TV)
1999
Swing Vote - Die entscheidende Stimme (TV) als Linda Kirkland
Originaltitel: Swing Vote (TV)
1999
Keine Zeugen, keine Beweise (TV) als Joanna Kendall
Originaltitel: Hit and Run (TV)
1998
The Adventures of Sebastian Cole als Joan Cole
Originaltitel: The Adventures of Sebastian Cole
1997
Ein Abschied für immer? als Kristen Hamstra
Originaltitel: Time to Say Goodbye?
1997
Vertrauter Feind als Sheila O'Meara
Originaltitel: The Devil's Own
1996
Milk & Money als Lorraine
Originaltitel: Milk & Money
1996
Independence Day als Constance Spano
Originaltitel: Independence Day
1995
The Wright Verdicts (#1.07 Unlucky Star) (TV) als Sandy Hamor
Originaltitel: The Wright Verdicts (#1.07 Unlucky Star) (TV)
1995
Im Schatten des Grauens (TV) als Dr. Molly Nostrand
Originaltitel: In the Shadow of Evil (TV)
1994
Chicago Hope - Endstation Hoffnung (TV) als Dr. Karen Antonovich
Originaltitel: Chicago Hope (TV)
1994
Tödliche Geschwindigkeit als Joline
Originaltitel: Terminal Velocity
1994
Related by Birth (TV) als Audie
Originaltitel: Related by Birth (TV)
1993
Amos & Andrew - Zwei fast perfekte Chaoten als Judy Gillman
Originaltitel: Amos & Andrew
1991
Der Mann Ihrer Träume als Robyn Graves
Originaltitel: The Butcher's Wife
1991
Keine wie die andere (TV) als Audie
Originaltitel: Sibs (TV)
1990
Ruhe sanft (TV) als Michelle Caruso
Originaltitel: Goodnight Sweet Wife: A Murder in Boston (TV)
1990
Martians Go Home als Sara Brody
Originaltitel: Martians Go Home
1989
Traveling Man (TV) als Joanna Reath
Originaltitel: Traveling Man (TV)
1989
Das dreckige Spiel als Kitty Greer
Originaltitel: True Believer
1988
Magnum (#8.10 Eine Legende lebt) (TV) als Connie Northrop
Originaltitel: Magnum, P.I. (TV)
1987
Noch drei Männer, noch ein Baby als Rebecca
Originaltitel: 3 Men and a Baby
1987
Klarer Fall für Claire (TV) als Claire McCarron
Originaltitel: Leg Work (TV)
1987
Wie der Vater, so der Sohn als Ginnie Armbruster
Originaltitel: Like Father Like Son
1987
Warm Hearts, Cold Feet (TV) als Amy Webster
Originaltitel: Warm Hearts, Cold Feet (TV)
1987
Eine Pfeife in Amerika (TV) als Jane Watson
Originaltitel: The Return of Sherlock Holmes (TV)
1986
Gefährliche Freundin als Irene
Originaltitel: Something Wild
1986
Pretty in Pink als Englisch-Lehrerin
Originaltitel: Pretty in Pink
1985 - 1986
Foley Square (TV) als Asst. D.A. Alex Harrigan
Originaltitel: Foley Square (TV)
1981 - 1983
Jung und Leidenschaftlich - Wie das Leben so spielt (TV) als Margo Montgomery Hughes #1
Originaltitel: As the World Turns (TV)
1979 - 1980
The Edge of Night (TV) als Paige Madison
Originaltitel: The Edge of Night (TV)
Steckbrief
| | | |
| --- | --- | --- |
| Geburtstag | | 26.05.1958 |
| Geburtsort | | Brooklyn, New York, USA |
Bereiche
Aktuelle Kommentare

26.02.2021 15:11
Dieser Barbie-Puppenlook und dieses Naive fand ich auch...
von Daniela

25.02.2021 23:20
Bei dem teaser von "the One" hab ich mich total an...
von Chili vanilli
mehr Kommentare
Verpasst keine News und Updates