The Last of Us - Review #1.03 Liebe mich, wie ich es will
Woche 3 von "The Last of Us" und bereits jetzt wurde eine zweite Staffel angekündigt, in der dann folgerichtig auch Part II der Spiele umgesetzt wird.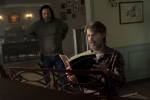 Nick Offerman & Murray Bartlett, The Last of Us
© 2021 Home Box Office, Inc. All rights reserved. HBO® and all related programs are the property of Home Box Office, Inc.
Bevor es aber so weit ist, bleiben wir natürlich erstmal in Staffel 1 und die beschert uns mit der dritten Folge die wohl größte Abweichung der Serie vom Original. Auch der Einstieg ist diesmal etwas anders als in den Folgen zuvor, denn nach dem fantastischen Intro sind wir direkt bei Joel (Pedro Pascal) und Ellie (Bella Ramsey).

Für diese ganz besondere Episode stehen diesmal allerdings zwei ganz andere Charaktere im Mittelpunkt: Bill (Nick Offerman) und Frank (Murray Bartlett). Anhand der beiden, beziehungsweise zunächst einmal durch Bills Perspektive, bekommen wir einen Eindruck davon, wie sich die Situation im Laufe der Jahre in dieser apokalyptischen Welt verändert hat.

Bill war dabei schon vor der Katastrophe ein Prepper, der sich auf einen Weltuntergang vorbereitet hat. Man meint fast, er freue sich ein wenig über die Ereignisse und kommt in dieser Welt hervorragend zurecht, denn er hat alles, was er braucht. Massenweise Waffen, sein Haus in einer Kleinstadt, gesichert mit Fallen und Zäunen, ja sogar Essen auf Restaurantniveau.

Eines Tages wird aber eine seiner Fallen ausgelöst und das stellt seine gesamte Welt auf den Kopf. So tritt nämlich Frank in sein Leben, das genaue Gegenteil von ihm. Nach anfänglicher Skepsis auf Bills Seite, dürfen wir die beiden über Jahrzehnte hinweg begleiten sehen eine wunderschöne und authentische Liebesgeschichte in all diesem Chaos. Mit einem Ende, das uns das Herz zerreißt.

Partnerlinks zu
Auch wenn die Folge sich auf Frank und Bill fokussiert, so gibt es doch immer wieder Bezüge zur Haupthandlung. Besonders habe ich mich da gefreut, Tess noch einmal kurz wieder zu sehen, als sie und Joel die beiden besuchen.

Im Spiel verläuft all das ganz anders. Dort treffen Joel und Ellie Bill in seinem verbarrikadierten Städtchen und wir suchen gemeinsam in der dortigen Highschool nach einer Autobatterie für die Weiterreise. Dort trifft man wieder auf allerlei Infizierte, allen voran einen fiesen Bloater. Den werden wir in der Serie auf jeden Fall noch zu Gesicht bekommen, deswegen möchte ich in der Hinsicht nicht zu viel vorwegnehmen. Von Frank dagegen finden wir eigentlich nur einen ziemlich harschen Abschiedsbrief an Bill und ein paar hängende Knochen.

Ich persönlich hatte nicht im Geringsten mit so einer Folge gerechnet, bin aber, wie die meisten, unglaublich froh darüber. Durch das "fehlende" Gameplay, gibt die Serie der Welt und den Charakteren mehr Raum und zieht uns damit tiefer in die Geschichte.

Damit schafft sie es auch, eine besondere Immersion zu erschaffen, die ihresgleichen sucht. Natürlich hätte ich auch hier Ellie und Bill gerne zusammen erlebt, im Spiel rasseln die beiden quasi ständig und recht unterhaltsam aneinander. Aber was hier stattdessen geschaffen wurde, ist wohl eine der, im positivsten Sinne, außergewöhnlichsten Folgen überhaupt.

Fazit
Die beiden Creators der Serie, Craig Mazin und Neil Druckmann, haben diese große Abweichung vom Original im Podcast zur Serie so erklärt, dass sie immer die beste Version schaffen wollten. Wenn es nicht besser geht, als es das Spiel vorgelegt hat, dann hält sich die Serie ans Spiel. Wenn es aber eine Möglichkeit gibt eine Geschichte besser zu erzählen beziehungsweise zu vertiefen, dann würden sie auch, wie in diesem Fall, davon abweichen.

Die positiven, wie auch leider negativen Reaktionen, zeigen auf jeden Fall wie wichtig es ist, solche Geschichten auf die Bildschirme zu bringen und unsere Realität in all seinen bunten Facetten wiederzugeben.

I think we're gonna love this episode for a long, long time...

"The Last of Us" ansehen:
Sophie F. - myFanbase

Kommentare
Meistgelesen
Aktuelle Kommentare
Verpasst keine News und Updates