Interview with Alex Saxon
June 10, 2015 | At the moment there are three amazing shows, "Finding Carter", "The Fosters" and "Ray Donovan", that offer us the chance to watch Alex Saxon bringing his "Still waters run deep" characters to life. His characters often have a calm or even calming aura and although they face different problems Alex Saxon portrays them all with so much depth not only but beautifully by letting his eyes speak. In our interview he kindly made time to talk about all his recent roles in detail.

---
Note: © myFanbase 2015 - The interview is exclusive to myFanbase and may not be published on other websites or the like. You may share the first two questions (up to 180 words) if you link back to this site. Translations other than English and German may be posted with full credit including the link to this site.
---
German translation of the interview.

1. In an interview you said about "Finding Carter" that "a real theme of the show is forgiveness and how forgiving everyone is with each other." Max has been incredibly forgiving with Crash even when nobody else was. What do you think, what did it take for Max to not only be so forgiving but to let Crash in as a friend?

Forgiving Crash was a natural evolution in Max's rehabilitation. Hard as it may have been, he was enlightened enough to recognize that holding on to fear and anger about the situation would only serve to continue to hurt him; hold him back in his recovery. Our producing director, Jen Lynch, put it so eloquently: Forgiveness is a decision before it is a feeling. The friendship wasn't accessible until they both made a move towards forgiveness.

2. Max was actually supposed to die in season 1, which would have been as devastating for the characters as for the fans of the show. Would you tell us a little bit about how you got to be back?

Max was originally intended to only appear in the pilot episode. He helped give a glimpse of Carter's former life before discovering she'd been kidnapped. It was only after the show got picked up to series that I was invited back for another nine episodes. I was thrilled at the opportunity and headed out to Atlanta feeling like I'd snuck in the back door of something really special. Max was a wild card and started to have all these unique relationships with all the other characters. It was a dream job. I was still working on The Fosters in Los Angeles, flying back between the coasts. Both productions were accommodating to scheduling. Still very grateful for that fact. I think we had just finished shooting the first four episodes in Atlanta. I wrapped at midnight, packed, flew to Los Angeles the next morning, then went straight from the airport to The Fosters set. I worked Thursday afternoon, all day Friday and was set to fly out early Saturday morning back to Atlanta. But the creator, Terri Minsky, and director for the first couple episodes, Scott Speer, wanted to grab a drink that night. I showed up eager for the reunion, but it wasn't long before I could tell something was off. Terri finally segued with "I don't know how to tell you this, but Max dies in episode 10." After a brief moment to confirm to myself that I had heard her correctly, I responded with "Okay." She was mortified to have to tell me. Apparently it had been a network decision early on, before we had started shooting, as an arc for the season.

I returned to work in Atlanta as a dead man walking, harboring the knowledge of Max's impending demise, but unable to tell anyone else in the cast. I didn't want it to effect any of the work. About seven weeks passed. Slowly the news got out as different department heads got early drafts for the episode. We were shooting episode 8 when I got another call from Terri that the network had changed their mind, asking if there was anyway that Max did't have to die in episode 10. Apparently talk had began as they were cutting the season together. Namely, the crouton making scene in episode 3. From there, Terri and the writers went about rewriting episodes 11 and 12. Eleven was supposed to begin with Max's funeral and all the fallout, so there was much to be done. I was just along for the ride. Grateful not to say good bye to the character and my cast-mates and crew in Atlanta.

3. So between Ofe's dopey spontaneity, Grant's sarcasm, Lori's creep factor and Kathryn & Anna's striking resemblance, what's the show's secret ingredient you love most?

The real secret ingredient exists in real life. There's a camaraderie amongst the cast that makes all of the elements of the show come together in a special way. Combined with the talent and support of the crew, going to work each day is a treat. The show extends from there.

4. Max and Taylor seemed to be so good together but in reality your first love isn't always your forever. What's going on between Taylor and Ofe now is pretty heartbreaking as well. When you guys read through the scripts do you root for anybody, too?

I think we all root for each other. I love watching what my costars do with their roles. Ofe was a favorite of mine from the beginning. Much of that is owed to Jesse Carrere- a character in his own right, and his unassuming comedic ability.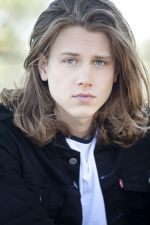 Alex Saxon
5. A show like "The Fosters" is wonderful important food for thought! So many groundbreaking issues. What were you most excited about playing from your own material as Wyatt?

I was very excited to be a part of The Fosters. I had the good fortune to grow up in a family and milieu that didn't stop to question someone else's family or relationship dynamics that were different from my own. Rather, if anyone around did object, it was understood that that individual had the problem, not the subject of the ridicule or nastiness. But it was interesting to see those multicultural, multi-sexual, non-Nuclear Family aspects of the show be heralded as groundbreaking in terms of what is seen on television. As far as Wyatt's involvement, I suppose he represented the single mother household. Similar to Finding Carter, that show started with an expected commitment of 3-5 episodes for Wyatt. He had an attraction for Callie, perhaps bolstered by their common ground in having a troubled upbringing. It could have been a situation where he was just a possible pitfall for Callie as she was starting a new life after the whole juvenile detention/foster home experience.

I'm grateful that the creators and writers kept finding a way for him to be in Callie's life. It turned into an exercise in unconditional love. Objectively, Callie yanked him around a lot. But he kept showing up, even when Callie was withholding information, harboring feelings for her foster brother, Brandon, or resenting Wyatt's efforts to protect her from things that hurt her in the past. All Wyatt knew was that he loved Callie, and he kept her best interest at heart. Its pretty cool to portray that level of caring and respect for an audience to watch. I just finished my 20th episode with the show. It has gone in directions that I couldn't anticipate, but I'm grateful as ever to be a part of the Fosters family.

6. You had some great scenes as transgender person Chloe on "Ray Donovan", a girl who knew what she wanted and an arc that was important for the shaping of the title character, too. How did you find this role and had it been planned from the beginning to bring her back in season 3?

That role was very important to me. A bizarre, nerve-wracking, wonderful experience to be playing a woman in a man's body alongside some of my acting idols. It came about at a time in my career that had me feeling quite miserable. I had experience in theatre back in Kansas City, and then had found some work in independent features in Los Angeles, but was in the midst of a harsh and frustrating dry spell in terms of booking work and dealing with certain people who were very critical and condemning of that fact. The holiday season had just passed, and I returned to Los Angeles with the intention of tying up loose ends and finishing out the lease of my apartment until March, at which point I would return to Missouri apply for medical school. It may have been my first audition of the new year and it came about like any other, with an email from my agent for a pre-read with casting. After an hour and a half in a Burbank thrift store I had found an outfit: a bubble gum pink ski jacket with faux fur collar that I could hardly zip up for being too small, and some old black tights from my days as a dancer.

I had a callback the next day with producers on the Sony lot and by the next week I was in full drag, shadow boxing Jon Voigt on the side of the highway near Malibu. The whole experience was formative. Working with Liev Schreiber was an education unto itself. I walked away with a restored sense of purpose in pursuing acting work. Words cannot express my gratitude. The next two years included a pilot with Warner Brothers, The Fosters, Finding Carter, and The Mentalist. I was actually in Atlanta working on Season 2a of Finding Carter when an e-mail came from my agent with RAY DONOVAN in the subject line. I thought it was a glitch; that some lost e-mail from 2013 had made its way to my inbox. But low and behold, Chloe was to return. MTV and the producers at Finding Carter were very accommodating in allowing me to fly back to Los Angles and work Ray Donovan. I'm excited for people to see what Chloe has been up to since we last saw Ray help her in her journey towards transitioning to female.

Thank you so much for making time for us, Alex, we wish you all the best for your future!

Nicole Oebel - myFanbase

Kommentare
Meistgelesen
Aktuelle Kommentare
Verpasst keine News und Updates