Enlightened - Inhalt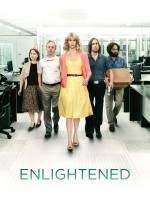 Enlightened - Erleuchtung mit Hindernissen
© 2013 Home Box Office, Inc. All rights reserved. HBO® and all related programs are the property of Home Box Office, Inc.
Amy Jelicoe (Laura Dern) ist Anfang Vierzig, sie ist geschieden und zwar gut in ihrem Job, aber auch nicht am oberen Ende der Karriereleiter angekommen. Und obwohl sie sich im Getriebe des Berufsstress aufreibt und alles für ihren Arbeitgeber Abaddon Industries tut, kann die Firma es kaum erwarten, sie nach einem Nervenzusammenbruch zu feuern.

Nach einer ausgiebigen Therapie in einem Selbsthilfezentrum auf Hawaii kehrt Amy aber als neuer Mensch zurück an ihren Arbeitsplatz, erkämpft sich eine Neuanstellung und versucht ihr altes Leben wieder aufzunehmen, allerdings unter neuen Voraussetzungen. Sie hat in der Therapie gelernt sich selbst zu lieben und mit der Welt im Reinen zu sein, und versucht dies nun auch ihren Mitmenschen nahezubringen. Dazu gehört ihr Ex-Mann Levi (Luke Wilson) und ihre Kollegen. Außerdem hat sie es sich zur Aufgabe gemacht, die skrupellosen Methoden von Abbadon anzuprangern und aus dem System heraus zu ändern, woran die Firma selbst natürlich kein Interesse hat.

"Enlightened - Erleuchtung mit Hindernissen" ansehen:
Cindy Scholz - myFanbase

Meistgelesen
Aktuelle Kommentare
Verpasst keine News und Updates