DVD-Rezension: Numb3rs, Staffel 2
Wir wenden täglich Mathematik an. Um das Wetter vorherzusagen, die Zeit zu messen, Geldgeschäfte abzuwickeln. Mathematik ist mehr als Formeln und Gleichungen. Sie ist Vernunft. Mit ihr kann unser Verstand die größten Rätsel lösen, die wir kennen.

© Paramount Pictures
2005 ging "Numb3ers" auf dem amerikanischen Sender CBS auf Sendung und konnte sofort als neue Krimi-Serie, die Fälle anhand von mathematischen Formel löst, sofort überzeugen. Noch im gleichen Jahr sicherte sich auch ProSieben die Rechte an der Serie und strahlte die erste Staffel ab August 2005 aus. Da die Serie auf ProSieben allerdings nicht die gewünschten Quoten brachte, wechselte sie 2007 auf den Sender Sat1.

Hauptdarsteller der zweiten Staffel von "Numb3ers" sind:
Rob Morrow, David Krumholtz, Judd Hirsch, Alimi Ballard ("Dark Angel"), Navi Rawat ("O.C., California", "24 - Twenty Four"), Diane Farr ("Roswell") und Peter MacNicol ("24 - Twenty Four", "Ally McBeal").

Rezension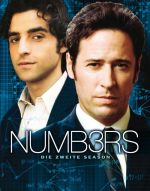 © Paramount Pictures
Eine Serie, die Verbrechen mittels Mathematik löst, scheint erst einmal abschreckend zu sein, doch genau wie die ersten Staffel, schafft es auch die Zweite, Mathematik-Legasthenikern die hoch komplizerten Theorien anschaulich darzustellen und dadurch nachvollziehbar zu machen. Wer nun meint, es sei alles Humbug, was dort gezeigt wird, dem kann man entgegen setzten, dass der Leiter der Mathematikabteilung des California Institute of Technology als wissenschaftlicher Berater bei der Serie mitarbeitet.

Die DVD-Box selbst befindet sich in einem zur Hälfe transparenten Plastikschuber, auf dem sich auf der Vorderseite ein Bild von Rob Morrow befindet und auf der Rückseite eine Inhaltsangabe. Entfernt man den Schuber, dann ist auf der Vorderseite ein Bild von David Krumholtz und auf der Rückseite befinden sich verschiedene Szenenfotos.

Die Box besteht aus sechs Discs, auf denen jeweils vier Episoden sind, und somit alle 24 Episoden der zweiten Staffel beinhalten.

Das Bonusmaterial, welches auf der amerikanischen Version folgende Features beinhaltete: Audio Kommentare, Blooper Reel; Behind the Scenes mit Nicolas Falacci; Behind the Scenes mit David Krumholtz; "Crunching Numb3rs: Season 2" featurette, ist leider nicht auf der deutschen Version enthalten.

Gegen die Bildqualität der DVDs kann man nichts einwenden, jedoch muss man beim Ton einige Abstriche machen, da die Synchronisationen lediglich im Dolby Digital 2.0 Surround vorliegt und nicht, wie in der Originalfassung im Dolby Digital 5.1.

Technische Details
FSK: 16
Laufzeit: ca. 994 Min. (24 Episoden)
Bildformat: 1.78:1 (anamorph / 16:9)
Tonformat/Sprache: Englisch Dolby Digital 5.1; Deutsch, Spanisch, Französisch Surround
Untertitel: Englisch, Deutsch, Schwedisch, Dänisch, Französisch, Norwegisch, Finnisch, Holländisch, Spanisch, Englisch für Hörgeschädigte

Fazit
Wer sich für Krimi-Serien interessiert, der wird "Numb3rs - Die Logik des Verbrechens" lieben. Nicht nur die Lösung der Fälle steht im Vordergrund, sondern auch die Beziehungen der Charaktere untereinander, was jedoch nicht Überhand annimmt. Die nicht vorhanden Extras sind schade, jedoch ist die Tatsache, dass es immer noch DVD-Boxen gibt, die ganze Staffeln beinhalten und nicht geteilt werden, ein Trost dafür.

Annika Leichner - myFanbase

Meistgelesen
Aktuelle Kommentare

05.03.2021 16:36
Ich habe sie so sehr über ihre Ansage gefeiert! Fand's...
von Daniela

04.03.2021 23:12
Leider noch nicht, aber am Wochenende oder nächste Woche...
von Daniela
mehr Kommentare
Verpasst keine News und Updates