Enlightened - Erleuchtung mit Hindernissen
Die HBO-Dramedy-Serie "Enlightened" hat es in ihrer kurzen Lebenszeit auf nicht sehr viele Zuschauer gebracht, aber die wenigen Fans, die die Serie innig geliebt haben, werden dafür sorgen, dass "Enlightened" auch nach dem vorzeitigen Ende noch lange im Gedächtnis bleiben wird.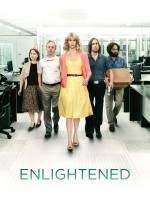 Enlightened - Erleuchtung mit Hindernissen
© 2013 Home Box Office, Inc. All rights reserved. HBO® and all related programs are the property of Home Box Office, Inc.
"Enlightened" wurde als Herzensprojekt von Schauspielerin und Hauptdarstellerin Laura Dern und Mike White, der jedes einzelne Drehbuch verfasste, entwickelte. Dabei schaffte man es, ein einzigartiges Produkt in der Serienlandschaft abzuliefern, dass mit nichts anderem vergleichbar ist. Es fehlt die düstere Atmosphäre und der Zynismus der meisten Anti-Helden-Dramen (siehe "Die Sopranos") , die bis dato die 2000-Jahre in der Serienlandschaft unter dem Begriff Qualitiy TV geprägt haben, es ist aber auch keine One-Women-Show, wie es die Showtime-Dramedys rund um "Weeds - Kleine Deals unter Nachbarn" und "Nurse Jackie" vorgemacht haben.

So ist es wohl kein Wunder, dass "Enlightened" nicht viele Zuschauer fand, aber spätestens in der zweiten Staffel war vielen Kritikern klar, dass es sich bei der Serie um ein ganz besonderes Kleinod handelte. Leider konnten die erstklassigen Kritiken, ein Golden Globe und Emmy Nominierungen für Laura Dern den Sender nicht mehr dazu bewegen, eine dritte Staffel zu ordern. So wurde "Enlightened" nach dem zweiten Jahr auf der Höhe seiner Kunst abgesetzt.

In Deutschland strahlt der Pay-TV-Sender Sky Atlantic "Enlightened" aus.

---
Serienmacher: Mike White
US-Ausstrahlung: 10.10.2011 - 03.03.2013 auf HBO
D-Ausstrahlung (Pay-TV): 01.05.2013 - 28.09.2013 auf Sky Atlantic
Staffeln:

Staffel 1 (10 Episoden)
Staffel 2 (8 Episoden)
"Enlightened - Erleuchtung mit Hindernissen" ansehen:
---
Amy Jelico (Laura Dern) ist Anfang Vierzig, sie ist geschieden und zwar gut in ihrem Job, aber auch nicht am oberen Ende der Karriereleiter angekommen. Und obwohl sie sich im Getriebe des Berufsstress aufreibt und alles für ihren Arbeitgeber Abaddon Industries tut, kann die Firma es kaum erwarten, sie zu feuern. Nach einer Therapie... mehr

Im Hauptcast von "Elightened" spielen:

Luke Wilson
Diane Ladd
Sarah Burns
Timm Sharp... mehr
Das Leben von Amy Jelicoe dreht sich nach ihrer Therapie vor allem um zwei Dinge, ihre Arbeit bei Abbadon und ihr Privatleben, welches sie verzweifelt versucht in den Griff zu bekommen... mehr

Kommentare
Meistgelesen
Aktuelle Kommentare
Verpasst keine News und Updates