Sky Deutschland zeigt Staffel 4 von "True Detective" zeitnah zur US-Ausstrahlung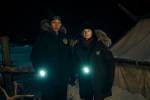 Kali Reis & Jodie Foster, True Detective: Night Country
© Home Box Office, Inc. All rights reserved. HBO® and all related programs are the property of Home Box Office, Inc.
Bei HBO und Max startet am 14. Januar 2024 die vierte Staffel von "True Detective", die den Untertitel "Night Country" trägt. Auch in Deutschland wird die Staffel parallel verfügbar sein. Los geht's am 15. Januar 2024.

"True Detective" bei WOW streamen

Immer montags parallel zur US-Ausstrahlung exklusiv über Sky Q sowie auf dem Streamingdienst WOW wird pro Woche eine Episode auf Abruf zur Verfügung gestellt. Die Episoden gibt es wahlweise im Original oder auf deutsch sowie wahlweise mit deutschen und englischen Untertiteln. Die lineare Ausstrahlung auf Sky Atlantic erfolgt zu einem späteren Zeitpunkt.

Die vierte Staffel der Anthologieserie trägt diesmal den Beititel "Night Country" und stellt das spurlose Verschwinden zweier Männer ins Zentrum, die die Tsalal Arctic Research Station betreiben. Die beiden Detectives Liz Danvers (Jodie Foster) und Evangeline Navarro (Kali Reis) müssen sich der Dunkelheit stellen, die sie in sich tragen, und sich in die verwunschenen Wahrheiten vertiefen, die unter dem ewigen Eis begraben liegen.

Zudem gibt's unten noch einen Teaser.
Externer Inhalt
An dieser Stelle ist Inhalt von einer anderen Website (z. B. YouTube, Twitter...) eingebunden. Beim Anzeigen werden deine Daten zu der entsprechenden Website übertragen.
Quelle: Sky Deutschland
Daniela S. - myFanbase
29.09.2023 00:29
Weitere News
Meistgelesen
Verpasst keine News und Updates