Kurz & Knapp: Good Trouble, All American, Billy the Kid, Abbott Elementary, Cruel Summer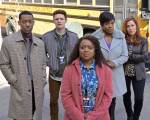 Abbott Elementary
© 2021 American Broadcasting Companies, Inc. All rights reserved.; ABC/Prashant Gupta
Lest hier unsere Kurz-Meldungen des Tages:

Freeform hat bekannt gegeben, dass die fünfte Staffel von "Good Trouble" am 16. März 2023 startet wird. Auch wieder als Callie Adams-Foster ist Maia Mitchell dabei.
The CW hat "All American" für die Season 2023/2024 gesichert und eine sechste Staffel bestellt.
MGM+ hat "Billy the Kid" um eine zweite Staffel verlängert.
Die ABC-Comedy "Abbott Elementary", die hierzulande bei Disney+ Star zu streamen ist, ist gerade auf vollem Erfolgskurs. Nach Gewinnen bei den Golden Globes hat ABC nun noch eine dritte Staffel spendiert.
Die zweite Staffel von "Cruel Summer" wird diesen Sommer bei Freeform an den Start gehen. Ein genauer Termin steht noch nicht fest.
Quelle: TVLine
Daniela S. - myFanbase
12.01.2023 01:13
Weitere News
Meistgelesen
Verpasst keine News und Updates