Kurz & Knapp: The Handmaid's Tale, When Calls The Hearts, Not Dead Yet, Found, Orphan, Bosch: Legacy, Dark Winds, Harry Wild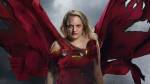 Elisabeth Moss, The Handmaid's Tale
© RTL / 2021 MGM Television Entertainment Inc. and Relentless Productions LLC. All Rights Reserved.
Lest hier unsere Kurzmeldungen des Tages:

Ab dem 6. September 2022 zeigt RTL Passion um 20:15 Uhr die vierte Staffel von "The Handmaid's Tale - Der Report der Magd".
Zwar hat Hallmark die Serie "The Calls The Heart" um eine zehnte Staffel verlängert, allerdings wird es bis 2023 dauern, bis die Fans diese zu sehen bekommen werden.
Lauren Ash ("Superstore") wird in der neuen ABC-Serie "Not Dead Yet" eine Hauptrolle übernehmen und Lexie spielen. Sie ist die Tochter eines wohlhabenden Zeitungsbesitzers und kürzlich ernannte Redakteurin und hat eigentlich keinen Bezug mehr zur normalen Welt. Sie hat ein extremes Selbstbewusstsein und war einmal fast olympische Springerin.
Sonay Hoffman wird neue ausführende Produzentin und Co-Showrunnerin der neuen NBC-Dramaserie "Found".
Imogen Reid wird in der neuen Hulu-Miniserie "Orphan" die Serientochter von Ellen Pompeo darstellen.
Max Martini wird in der zweiten Staffel von "Bosch: Legacy" in einer größeren Nebenrolle als Detective Don Ellis zu sehen sein.
Für die zweite Staffel von AMCs "Dark Winds" wurde John Wirth als neuer Showrunner ernannt.
Acorn TV hat eine zweite Staffel mit acht neuen Episoden von "Harry Wild" bestellt. Diese wird 2023 Premiere feiern.
Quelle: RTL Passion, Deadline, TVLine
Daniela S. - myFanbase
11.08.2022 02:01
Weitere News
Meistgelesen
Verpasst keine News und Updates