Gwendoline Christie in "Top of the Lake" Staffel 2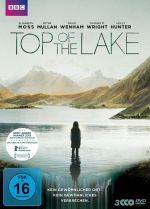 © polyband
In einem Monat beginnt HBO mit der Ausstrahlung der sechsten Staffel von "Game of Thrones". Zwischen den Drehpausen hat sich nun eine der Darstellerinnen für eine weitere Hauptrolle in einer anderen Serie verpflichten lassen. Die Rede ist von Gwendoline Christie. Die Mimin wird eine Hauptrolle in der zweiten Staffel der BBC-Serie "Top of the Lake" übernehmen.

Die zweite Staffel von "Top of the Lake" spielt vier Jahre nach dem Staffel-1-Finale und trägt den Untertitel 'China Girl'. Detective Robin Griffin (Elisabeth Moss) wird zu einem Leichnam eines asiatischen Mädchens gerufen, das am Bondi Beach gefunden wird. Schon bald findet Griffin heraus, dass das Mädchen nicht alleine gestorben ist.

Genauere Details zu Christies Rolle werden noch unter Verschluss gehalten. Ähnlich sieht es bei den Darstellern David Dencik, Alice Englert und Ewen Leslie aus, die ebenfalls für die zweite Staffel von "Top of the Lake" gecastet wurden.

Gwendoline Christie ist seit der zweiten Staffel von "Game of Thrones" als Brienne von Tarth dabei. Zuletzt war sie ebenfalls in "Star Wars: Das Erwachen der Macht" als Captain Phasma zu sehen.

Die Dreharbeiten zur zweiten Staffel von "Top of the Lake" laufen seit dem 21. März 2016 in Sydney. Die Ausstrahlung ist für 2017 geplant.
Quelle: The Hollywood Reporter
Daniela S. - myFanbase
23.03.2016 15:20
Weitere News
mehr News
Meistgelesen
Verpasst keine News und Updates