Dieser "Legends of Tomorrow"-Mime kehrt für das "Arrowverse"-Crossover zurück (Spoiler)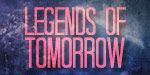 Für das bevorstehende "Arrowverse"-Crossover "Crisis on Infinite Earths" kehrt nun auch Johnathon Schaech in seine "Legends of Tomorrow"-Rolle des Jonah Hex zurück. Bisher sind keine Details zu seiner Rückkehr bekannt.

Das "Arrowverse"-Crossover wird das bisher größte sein, da gleich fünf DC-Serien, die bei The CW beheimatet sind, daran teilnehmen werden: "Arrow", "The Flash", "Legends of Tomorrow", "Supergirl" und "Batwoman". Drei Episoden werden im Dezember ausgestrahlt, auf die Auflösung der Krise muss dann aber bis zum Januar hin gewartet werden.
Externer Inhalt
An dieser Stelle ist Inhalt von einer anderen Website (z. B. YouTube, Twitter...) eingebunden. Beim Anzeigen werden deine Daten zu der entsprechenden Website übertragen.
Quelle: Entertainment Weekly
Daniela S. - myFanbase
10.09.2019 08:17
Weitere News
mehr News
Meistgelesen
Verpasst keine News und Updates