Häufig gestellte Fragen

Euch brennt eine dringende Frage zu der Serie "How I Met Your Mother" unter den Nägeln? Dann her damit! An dieser Stelle beantworten wir die am häufigsten gestellten, spannendsten und wichtigsten Fragen!

Wenn Ihr eine Frage zu der Serie habt, dann schreibt einfach eine E-Mail an melanie@myfanbase.de oder meldet euch unten in den Kommentaren.

---
© Twentieth Century Fox Home Entertainment
Gibt es DVDs zur Serie?

Bisher sind bereits alle acht im deutschen Free-TV ausgestrahlten Staffeln auf DVD erhältlich. Neben allen Episoden im deutschen und im englischen Originalton gibt es außerdem eine Menge an Bonusmaterial.

Staffel 1 jetzt bestellen
Staffel 2 jetzt bestellen
Staffel 3 jetzt bestellen
Staffel 4 jetzt bestellen
Staffel 5 jetzt bestellen
Staffel 6 jetzt bestellen
Staffel 7 jetzt bestellen
Staffel 8 jetzt vorbestellen

Gibt es Barneys Blog wirklich?

In der Serie spricht Barney immer wieder von seinem Blog, in dem er seine Theorien nieder schreibt oder besondere Ereignisse dokumentiert. Auf der offiziellen Seite von "How I Met Your Mother" ist dieser Blog verfügbar, allerdings nur die Einträge zur dritten Staffel. Geschrieben wird der Blog von Matthew Kuhn, der eng mit den Serienerfindern zusammenarbeitet.

Zum offiziellen Blog von Barney

© riva Verlag
Was ist der "Bro Code", den Barney öfter erwähnt?

Der "Bro Code" hat für Barney mehr Gewicht als irgendwelche Gesetze oder religiösen Vorschriften, er ist für ihn das wichtigste Element, um seine Freundschaft zu Ted (und Marshall) am Leben zu halten und er besteht darauf, dass auch seine beiden besten Freunde sich an diesen Kodex halten, was sie bisher auch immer getan haben, ohne Ausnahme.

Zur Kolumne

Die Macher der Serie haben das Potenzial des "Bro Codes" erkannt und so kam es, dass der Autor von Barneys Blog, Matthew Kuhn, in Zusammenarbeit mit den Serienerfindern, den gesamten "Bro Code" in Form eines Buches veröffentlicht hat, das jetzt auch ins Deutsche übersetzt wurde.
Mittlerweile gibt es den "Bro Code" auch in einer kleineren Version, um ihn überallhin mitnehmen zu können. "Bro on the Go" ist für alle Fans ein Muss und enthält einige neue Regeln, die bisher nicht veröffentlicht wurden. Das Buch gibt es derzeit aber nur auf Englisch.

Den "Bro Code" auf Deutsch bestellen
Den "Bro on the Go" auf Englisch bestellen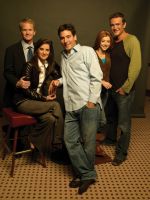 How I Met Your Mother
© Twentieth Century Fox Home Entertainment
Seit wann läuft die Serie in Deutschland?

ProSieben sicherte sich die Rechte an der Sitcom "How I Met Your Mother" und sendete seit September 2008 die ersten drei Staffeln jeden Samstag in Doppelfolgen. Nach einer Pause, in der die ersten zwei Staffeln von "The Big Bang Theory" gezeigt wurden, ging es mit Staffel 4 weiter. Derzeit strahlt ProSieben jeden Mittwoch Abend eine Folge der achten Staffel aus.

Staffel 1: 13. September 2008 - 29. November 2008
Staffel 2: 06. Dezember 2008 - 14. Februar 2009
Staffel 3: 21. Februar 2009 - 4. Juli 2009
Staffel 4: 28. November 2009 - 20. Februar 2010
Staffel 5: 12. Januar 2010 - 23. Februar 2011
Staffel 6: 07. September 2011 - 30. November 2011
Staffel 7: 11. Januar 2012 - 9. Januar 2013
Staffel 8: 17. April 2013 - 28. August 2013

Seit wann läuft die Serie in den USA?

Die Sitcom "How I Met Your Mother" startete 2005 auf dem amerikanischen Sender CBS und beginnt im Herbst 2013 mit ihrer neunten und finalen Staffel.

Staffel 1: 19. September 2005 - 15. Mai 2006
Staffel 2: 18. September 2006 - 14. Mai 2007
Staffel 3: 24. September 2007 - 19. Mai 2008
Staffel 4: 22. September 2008 - 18. Mai 2009
Staffel 5: 21. September 2009 - 24. Mai 2010
Staffel 6: 20. September 2010 - 16. Mai 2011
Staffel 7: 19. September 2011 - 14. Mai 2012
Staffel 8: 24. September 2012 - 13. Mai 2013
Staffel 9: 23. September 2013 - ???

Wie lautet der Titelsong der Serie?

Der Titelsong ist ein Ausschnitt aus "Hey Beautiful" und ist von The Solids. Serienerfinder Craig Thomas und Carter Bays sind Mitglieder der Band.

Haben die Schauspieler und Serienmacher auch einen Twitteraccount?

Ja, auf Twitter sind einige der Hauptdarsteller, sowie beide Serienerfinder vertreten.

Jason Segel bei Twitter
Neil Patrick Harris bei Twitter
Alyson Hannigan-Denisof bei Twitter
Bob Saget bei Twitter
Carter Bays bei Twitter
Craig Thomas bei Twitter

Darüber hinaus hat man die Möglichkeit noch weitere Informationen von hinter den Kulissen zu erfahren. Eine ganze Reihe offizieller Accounts twittern über das Geschehen am Set.

Offizieller "How I Met Your Mother"-Twitteraccount von CBS
Twitteraccount der "How I Met Your Mother"-Produzenten
Offizieller "Barney Stinson"-Twitteraccount
Offizieller Twitteraccount des "How I Met Your Mother"-Podcasts
Twitteraccount der "How I Met Your Mother"-Autoren

Annika Leichner & Alex Olejnik - myFanbase

Kommentare
Meistgelesen
Aktuelle Kommentare

22.05.2022 20:07
Ich schau gerade den "Chip und Chap" Film und hoffe...
von Chili vanilli

22.05.2022 19:34
Exakt, das habe ich auch gedacht. In fünf Jahren hätte...
von Lena
mehr Kommentare
Verpasst keine News und Updates