Literatur
Hier erfahrt ihr alles über Bücher, die mit der HBO-Serie "Girls" zu tun haben.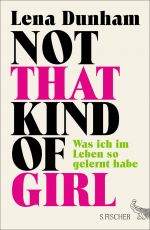 © S. Fischer Verlag GmbH
Lena Dunham: Not That Kind of Girl - Was ich im Leben so gelernt habe
Veröffentlichungsdatum (DE): 07.10.2014

In ihrem ersten eigenen Buch gewährt die 28-jährige New Yorkerin Lena Dunham, Serienschöpferin und Hauptdarstellerin der HBO-Comedy "Girls", einen sehr persönlichen Einblick in die mitunter schwierigen Jahre des Erwachsenwerdens. Anhand einer Reihe von autobiographischen Anekdoten schildert sie ihren Weg hin zur Selbstfindung und -akzeptanz, berichtet von prägenden sexuellen Erfahrungen und legt ihre Ansichten zu zentralen Themen wie Liebe, Freundschaft und Familie dar.

Zur Rezension von "Not That Kind of Girl"

Meistgelesen
Aktuelle Kommentare
Verpasst keine News und Updates