Gewinnspiel: I Wanna Dance With Somebody
"I Wanna Dance With Somebody" feiert die unvergleichliche Whitney Houston auf eindringliche und triumphale Weise. Ohne jede Tabus portraitiert der Film die komplexe und vielschichtige Frau hinter The Voice. Von ihren Anfängen als Chormädchen in New Jersey bis hin zu einer der erfolgreichsten und am häufigsten ausgezeichneten Sängerinnen und Künstlerinnen aller Zeiten, wird das Publikum mitgenommen auf eine inspirierende, ergreifende – und sehr emotionale – Reise durch Houstons bahnbrechende Karriere und ihr Leben. Mit atemberaubenden Auftritten und einem Soundtrack, der die beliebtesten Hits der Ikone beinhaltet. Don't you wanna dance?

Partnerlinks zu
Externer Inhalt
An dieser Stelle ist Inhalt von einer anderen Website (z. B. YouTube, Twitter...) eingebunden. Beim Anzeigen werden deine Daten zu der entsprechenden Website übertragen.
Zum Kinostart von "I Wanna Dance With Somebody" am 22. Dezember 2022 verlosen wir zwei prall gefüllte Fanpakete zum Film bestehend aus zwei Freikarten, einem Notizbuch und einem Beutel.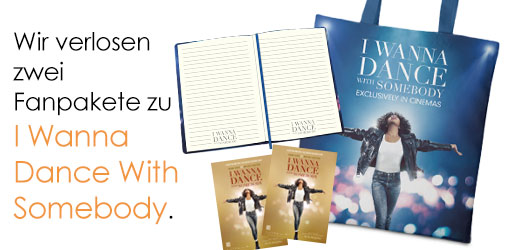 © 2022 Sony Pictures Entertainment Deutschland GmbH
Teilnahmeschluss: 21. Dezember 2022

Das Gewinnspiel ist beendet.

Meistgelesen
Aktuelle Kommentare
Verpasst keine News und Updates