Tim Story
Fantastic Four: Rise of the Silver Surfer
Warum möchtest du unsere Welt zerstören?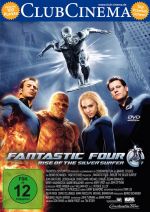 © Constantin Film
Inhalt

In Ägypten beginnt es zu schneien, in Japan steinert ein ganzer See ein und in Los Angeles legt ein Stromausfall die ganze Stadt lahm und das sind nur drei Beispiele der weltweiten Folgen eines unerklärlichen Phänomens. Doch das alles scheint nur eine Nebenrolle zu spielen. Denn die Zeitungen und TV-Sender berichtet viel lieber über den nächsten Versuch der Hochzeit des Jahres. Die Hochzeit, in der sich Susan "Mrs. Unsichtbar" Storm (Jessica Alba) und Reed "Mr. Fantastic" Richards (Ioan Gruffudd) das Ja-Wort geben werden.

Doch anders als viele Menschen beunruhigen diese Vorkommnisse das Militär genauso wie den baldigen Bräutigam. Und so machen sie sich gemeinsam auf die Suche nach dem Auslöser dieser Vorkommnisse und werden auch schnell fündig. Und ausgerechnet bei dem nächsten Versuch der Hochzeit taucht nun der Grund für diese Ereignisse in Gestalt des Silver Surfers auf. Dieser Silver Surfer ist um einiges schneller als Johnny "die menschliche Fackel" Storm (Chris Evans) und auch Ben "Das Ding" Grimm (Michael Chiklis) kann nichts gegen ihn anrichten. Im Kampf gegen den Silver Surfer erhält das Team bald schon unerwartete Hilfe. Der Kampf kann also beginnen. Wird es den Vieren gelingen, die Welt ein weiteres Mal zu retten?

Kritik

Gut, ich muss gestehen, ich hatte mit Comics nie viel am Hut. Ich sehe mir die verschiedenen Verfilmungen zwar gerne an, aber im Comic-Format kenne ich sie alle nicht. Daher ist mir die Bedeutung, die der Silver Surfer in der Marvel-Comic-Welt hat, völlig unbekannt, aber es muss wohl eine große sein. Jedenfalls ging ich, nachdem ich schon den ersten Teil eher mittelmäßig fand, mit geringen Erwartungen ins Kino.

Der Beginn jedoch war – wie alle anderen Special-Effects – wirklich schön anzusehen, wie der Surfer die Welt sozusagen lahm legt. Die Geschichte rundum den Silver Surfer war sowieso nicht das, was mich an dem Film störte. Vielmehr war es der Handlungsstrang rund um Reed und Susan. Dieser nervte eigentlich schon von der ersten Minute an und die Tatsache, dass Jessica Alba auch noch so schlecht schauspielerte, machte es nicht besser.

Erfreulich war die Tatsache, dass Johnny Storm, alias "die menschliche Fackel", mehr in den Mittelpunkt gerückt ist. Vor allem Darsteller Chris Evans kam mit dieser Verantwortung gut klar und die Verfolgungsszene von ihm und dem Silver Surfer die Ostküste entlang war das Highlight des ganzen Films. Das wiederum ist ein weiterer Nachteil des Films. Wieso hat man gerade die beste Szene schon in den Trailern verwendet? So kann man vom Film selber nur enttäuscht sein. Aber ich bezweifle auch, dass der Film, wenn man eben nicht diese Szene für den Trailer schon verwendet hätte, jemals so viele Leute in die Kinos gelockt hätte.

Schauspielerisch lässt sich zu den weiteren Darstellern nicht mehr viel sagen. Vom Hocker gehauen hat mich keiner. Vielmehr war ich von den Leistungen, die Jessica Alba und Julian McMahon ablegten, eher enttäuscht. Einzig Kerry Washington war als blinde Freundin von Ben sehr gut und überzeugend.

Fazit

Ein Film ist wie eine Berg- und Talfahrt. Mit vielen Hochs und Tief bietet "Fantastic Four: The Rise of the silver Surfer" zwar viel Unterhaltung aber wenig Anspruch und eher schlechte Schauspielkünste.


Eva Klose - myFanbase
16.08.2007
Weitere Informationen
Originaltitel: 4: Rise of the Silver Surfer
Veröffentlichungsdatum (USA): 15.06.2007
Veröffentlichungsdatum (
DE
): 14.08.2007
Länge: 92 Minuten
Regisseur: Tim Story
Drehbuchautor: Don Payne & Mark Frost (Drehbuch); John Turman & Mark Frost (Story)
Genre: Science Fiction, Fantasy, Action
Jetzt bestellen
DVD jetzt bei Amazon.de
bestellen
Aktuelle Kommentare

11.04.2021 10:36
... ja für einen regnerischen Sonntag mit der/dem...
von Rummel

11.04.2021 02:08
Du sprichst mir bei Tom sowie der Owen-Teddy-Szene mal...
von Daniela
mehr Kommentare
Verpasst keine News und Updates