AMC verlängert "Fear the Walking Dead" um Staffel 7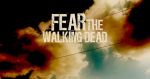 Die Fans der Spin-Off-Serie "Fear the Walking Dead" haben Grund zur Freude. Der US-Kabelsender AMC hat die Serie um eine siebte Staffel verlängert. Schaut euch dazu das Ankündigungsvideo unten an.

Alles Weitere findet ihr in unserem ausführlichen "Fear the Walking Dead"-Serienbereich.
Externer Inhalt
An dieser Stelle ist Inhalt von einer anderen Website (z. B. YouTube, Twitter...) eingebunden. Beim Anzeigen werden deine Daten zu der entsprechenden Website übertragen.
Quelle: @TheWalkingDead via Twitter
Daniela S. - myFanbase
04.12.2020 01:02
Weitere News
mehr News
Meistgelesen
Verpasst keine News und Updates