"Dawson's Creek"-FAQ - Häufig gestellte Fragen

Euch brennt eine dringende Frage zu der Serie "Dawson's Creek" unter den Nägeln? Dann her damit! An dieser Stelle beantworten wir die am häufigsten gestellten, spannendsten und wichtigsten Fragen!

Wenn Ihr eine Frage zu der Serie "Dawson's Creek" habt, dann schreibt einfach eine E-Mail an catherine@myfanbase.de oder meldet euch unten in den Kommentaren.

---
Wann lief die Serie in den USA?

"Dawson's Creek" lief in den USA auf dem Sender The WB.

US-Erstausstrahlung:
Staffel 1: 20.01.1998 - 19.05.1998
Staffel 2: 07.10.1998 - 26.05.1999
Staffel 3: 29.09.1998 - 24.05.2000
Staffel 4: 04.10.2000 - 23.05.2001
Staffel 5: 10.10.2001 - 15.05.2002
Staffel 6: 02.10.2002 - 14.05.2003

Wann lief die Serie in Deutschland?

Die deutschen Fernsehzuschauer mussten nur knapp ein Jahr warten, bis auch sie die Geschichten rund um Dawsons und Co. Auf Sat.1 verfolgen konnte.

Deutsche Erstausstrahlung:
Staffel 1: 03.01.1999 - 28.03.1999
Staffel 2: 04.04.1999 - 12.09.1999
Staffel 3: 01.10.2000 - 15.03.2001
Staffel 4: 27.07.2002 - 04.01.2003
Staffel 5: 11.01.2003 - 14.06.2003
Staffel 6: 08.11.2003 - 10.04.2004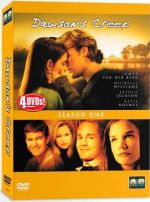 © 2001, 2002 Columbia TriStar Television, Inc. All Rights Reserved.
Gibt es "Dawson's Creek" auch auf DVD?

Die Serie gibt es seit 2003 auch auf DVD, so dass man sie ohne Werbeunterbrechung jeder Zeit erneut gucken kann.

Staffel 1 auf DVD bestellen
Staffel 2 auf DVD bestellen
Staffel 3 auf DVD bestellen
Staffel 4 auf DVD bestellen
Staffel 5 auf DVD bestellen
Staffel 6 auf DVD bestellen

Es gibt außerdem eine Komplettbox, in der alle sechs Staffeln der Serien enthalten sind. Auch die kann man bei Amazon.de bestellen.

Partnerlinks zu
Wie heißt der Titelsong und wer singt ihn?

Der Titelsong stammt von der amerikanischen Sängerin Paula Cole und heißt "I Don't Want to Wait". Der Song ist unter anderem auf dem erstem offiziellem Soundtrack zur Serie "Dawson's Creek" enthalten.
Für die erste Staffel gab es außerhalb der USA einen anderen Titelsong. Es handelte sich um "Run Like Mad" von Jann Arden.

Wo wurde die Serie gedreht?

Die Dreharbeiten fanden in der kleinen Stadt Wilmington im US-Bundesstaat North Carolina statt. In unserer Beschreibung der Drehorte könnt ihr euch Bilder anschauen und noch ein wenig mehr erfahren.

Gibt es Soundtracks zur Serie?

Zu "Dawson's Creek" wurden zwei offizielle Soundtracks veröffentlicht, die verschiedene Songs aus der Serie enthalten. Die Produktionsfirma bot außerdem für einige Zeit an, sich einen eigenen Soundtrack zusammen zu stellen und zuschicken zu lassen. Diese Fanaktion fand weltweit großen Anklang.

"Songs from "Dawson's Creek' - Volume 1" bei Amazon bestellen
"Songs from "Dawson's Creek' - Volume 2" bei Amazon bestellen

Catherine Bühnsack - myFanbase

Kommentare
Meistgelesen
Aktuelle Kommentare
Verpasst keine News und Updates