Laila Robins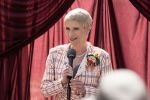 Laila Robins, The Walking Dead
© 2021 AMC Film Holdings LLC. All Rights Reserved.; Josh Stringer/AMC
Die am 14. März 1959 in St. Paul, Minnesota, geborene Laila Robins ist eine US-amerikanische Schauspielerin mit lettischen Wurzeln, die seit Mitte der 80er Jahre im Film- und Fernsehgeschäft tätig ist. Zu ihren bekanntesten Rollen zählen die der Susan Page in "Ein Ticket für zwei" (1987) an der Seite von Martin Sheen, die der Patricia Findley in "Ein wahres Verbrechen" (1999) neben Clint Eastwood und die der Frances Hannon in "Oxygen - Jede Sekunde zählt" (1999) neben Adrien Brody. Sie spielte zudem wiederkehrende Rollen in TV-Serien wie "Chicago Soul" (1990 bis 1991), "In Treatment" (2009) und in "Homeland" (2014) als US-Botschafterin Martha Boyd. 2021 übernahm sie einen Part in der finalen elften Staffel von "The Walking Dead".

Neben ihrer Arbeit bei Film und Fernsehen war Laila Robins auch immer wieder auf der Theaterbühne zu sehen. Sie spielte sie beispielsweise die Portia im "Kaufmann von Venedig" und erhielt dafür 1995 den Joe A. Callaway Award. 1997 erhielt sie eine Nominierung für den Helen Hayes Award für ihre Darstellung in "Mrs. Klein" und gewann den Joseph Jefferson Award für "A Streetcar Named Desire".

Ihre Ausbildung machte Robins an der Yale School of Drama, wo sie ihren Master of Fine Arts machte und schließlich die University of Wisconsin–Eau Claire besuchte. Ihr Theaterdebüt gab sie in "Peer Gynt" beim Williamstown Theatre Festival. Als sie das erste Mal am Broadway auftrat, übernahm sie direkt die Rolle von Glenn Close als Annie in "The Real Thing".

Privat ist Robins glücklich mit dem Schauspieler Robert Cuccioli verheiratet, mit dem sie seit 2000 zusammen ist. Die beiden hatten sich bei der Produktion von "Macbeth" am Shakespeare Theater of New Jersey kennen gelernt, wo sie die Rolle der Lady Macbeth spielte. Robins hat drei Schwestern.

Catherine Bühnsack - myFanbase
Ausgewählte Filmographie (Schauspieler)
2019 - 2022
The Boys als Grace Mallory
Originaltitel: The Boys (TV)
2022
The Walking Dead (TV) als Pamela Milton
Originaltitel: The Walking Dead (TV)
2019 - 2021
The Blacklist als Katarina Rostova
Originaltitel: The Blacklist (TV)
2021
Dr. Death (TV) als Amy Piel
Originaltitel: Dr. Death (TV)
2021
The Equalizer (TV) als CIA Director Suri Nance
Originaltitel: The Equalizer (#1.05 The Milk Run) (TV)
2018
Deception - Magie des Verbrechens als FBI Agent Deakins
Originaltitel: Deception (TV)
2017
Mr. Mercedes (TV) als Charlotte Gibney
Originaltitel: Mr. Mercedes (TV)
2016 - 2017
Quantico (#2.08 Die Wahrheit bist du & #2.09 Mission: Verführung) (TV) als General Richards
Originaltitel: Quantico (TV)
2015
Murder in the First (TV) als Jamie Nelson
Originaltitel: Murder in the First (TV)
2014
Homeland (TV) als Martha Boyd
Originaltitel: Homeland (TV)
2011
Person of Interest (TV) als Anja Kohl
Originaltitel: Person of Interest (#1.08 Foe) (TV)
2011
Blue Bloods - Crime Scene New York (TV) als Mrs. Lee
Originaltitel: Blue Bloods (#2.02 Friendly Fire) (TV)
2011
Damages - Im Netz der Macht (TV)
Originaltitel: Damages (#4.05 We'll Just Have to Find Another Way to Cut the Balls Off of This Thing) (TV)
2011
Too Big to Fail – Die große Krise als Christine Lagarde
Originaltitel: Too Big to Fail
2010
Good Wife (#2.07 Böses Mädchen) (TV) als Paige Burchfield
Originaltitel: The Good Wife (TV)
2009 - 2010
Bored to Death (TV) als Priscilla Antrem
Originaltitel: Bored to Death (TV)
2010
Army Wives (TV)
Originaltitel: Army Wives (#4.04 Be All You Can Be) (TV)
2009
In Treatment (TV) als Tammy Meswick
Originaltitel: In Treatment (TV)
2009
All My Children (TV) als Claire Williams
Originaltitel: All My Children (TV)
2009
30 Rock (#3.11 Verabrede dich nie am Valentinstag!) (TV) als Gloria Baird
Originaltitel: 30 Rock (TV)
2006
The Book of Daniel (TV) als Nora Paxton
Originaltitel: The Book of Daniel (TV)
2004
Sex and the City (#6.17 Kalter Krieg) (TV) als Audra Clark
Originaltitel: Sex and the City (TV)
2001
Die Sopranos (TV) als junge Livia Soprano
Originaltitel: The Sopranos (#3.03 Fortunate Son) (TV)
2000
Third Watch - Einsatz am Limit (TV) als Sharon Reiner
Originaltitel: Third Watch (#1.12 Journey to the Himalayas) (TV)
1999
Die Sopranos (TV) als junge Livia Soprano
Originaltitel: The Sopranos (#1.07 Down Neck) (TV)
1999
Oxygen - Jede Sekunde zählt als Frances Hannon
Originaltitel: Oxygen
1999
Law & Order: New York (TV) als Ellen Travis
Originaltitel: Law & Order: Special Victims Unit (#1.02 A Single Life) (TV)
1999
Ein wahres Verbrechen als Patricia Findley
Originaltitel: True Crime
1990 - 1991
Chicago Soul (TV) als Victoria Heller
Originaltitel: Chicago Soul (TV)
1987
Ein Ticket für zwei als Susan Page
Originaltitel: Planes, Trains & Automobiles
Steckbrief
| | | |
| --- | --- | --- |
| Geburtstag | | 14.03.1959 |
| Geburtsort | | St. Paul, Minnesota, USA |
Aktuelle Kommentare
Verpasst keine News und Updates