Christoph Jablonka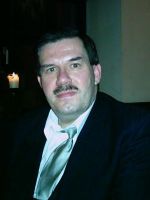 Christoph Jablonka ist Münchner, spielt Theater und ist Synchronsprecher für Filme und Serien.

Zu seinen Filmsynchronisationen gehören unter anderem die Filme "Sky Captain and the World of Tomorrow" als Stimme von Omid Djalili , "Big Fish - Der Zauber, der ein Leben zur Legende macht" als Stimme von Matthew McGrory und "Blade – Trinity" als Stimme von Triple H.

In Serien hat er z.B. Gerald McRaney als Johnston Green in "Jericho – der Anschlag" seine Stimme geliehen. In "Drawn Together" ist der die Stimme von Spanky Ham. Außerdem lieh er weiteren Zeichentrickfiguren seine Stimme in "Transformers: Armada" und "Silver Surfer".

Anja Schmidt - myFanbase
Ausgewählte Sprecherrollen
Troy Hogan (Direktor Burnwell)
in Friday Night Lights (TV) (Originaltitel: Friday Night Lights (TV))
Ian Tracey (Daniel Armand)
in 4400 - Die Rückkehrer (TV) (Originaltitel: The 4400 (TV))
Brian Jensen (Mole)
in Dark Angel (TV) (Originaltitel: Dark Angel (TV))
Walter Coppage (Lt. Siever)
in Eiskalte Stille (Originaltitel: Silence)
John Di Maggio (Nolt)
in Vampire Hunter D: Bloodlust (Originaltitel: Vampire Hunter D: Bloodlust)
Omid Djalili (Kaji)
in Sky Captain and the World of Tomorrow (Originaltitel: Sky Captain and the World of Tomorrow)
John Kazek (Ally)
in Lieber Frankie (Originaltitel: Dear Frankie)
Matthew McGrory (Karl der Riese)
in Big Fish - Der Zauber, der ein Leben zur Legende macht (Originaltitel: Big Fish)
David Parker (Harry Zordich)
in Ein Schlitzohr namens Santa Claus (Originaltitel: Ein Schlitzohr namens Santa Claus)
Jeremy Roberts (Lt. Dmitri Valtane)
in Star Trek 6 - Das unentdeckte Land (Originaltitel: Star Trek VI: The Undiscovered Country)
Triple H (Jarko Grimwood)
in Blade - Trinity (Originaltitel: Blade - Trinity)
Donnie Yen (Weiter Himmel)
in Hero (Originaltitel: Hero)
Alvin Sanders (Demolishor)
in Transformers: Armada (Originaltitel: Transformers: Armada)
Gerald McRaney (Johnston Green)
in Jericho – der Anschlag (Originaltitel: Jericho)
Jonathan Goldstein (Walter Nichols)
in Drake & Josh (Originaltitel: Drake & Josh)
Adam Carolla (Spanky Ham)
in Drawn Together (Originaltitel: Drawn Together)
Aktuelle Kommentare

27.10.2021 16:09
"Nee nee, ich mach das nur bei Sachen wo ich genau weiß...
von Daniela

26.10.2021 17:12
Was war ich doch da positiv überrascht, als auf einmal...
von Lena
mehr Kommentare
Verpasst keine News und Updates