Samantha Ferris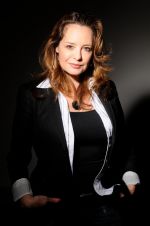 Bevor die gebürtige Vancouveranerin den Weg in das Schauspielfach fand, arbeitete sie Mitte der 1990er Jahre als Fernsehreporterin für die Bellingham TV- Station KVOS TV - 12 und obwohl sie schon früh erkannte, dass ihre einzig wahre Leidenschaft die Schauspielerei ist, führte sie ihre Reporterkarriere zunächst fort.

Neben ihrer Reporter- und Wetterfeetätigkeit für das kanadische Fernsehen, war sie auch als Co-Moderator in verschiedenen Talk- Shows des lokalen Radiosenders tätig. Den Wechsel in das Schauspielfach vollzog Samantha sehr konsequent. Sie tat nie einen Blick zurück und bereute diesen Schritt nie.

In der preisgekrönten kanadischen Serie "Da Vinci's Inquest" konnte sie in mehreren Gastauftritten unter Beweis stellen, dass in ihr mehr steckt, als die Wetterfee. Samantha Ferris spielte in vielen bekannten Serien und TV- Filmen mit. Gastauftritte hatte sie in "Smallville", "Lifetime's A Date with Darkness", "The L-Word", "The Evidence", "The Chris Isaak Show" und "The Trial and Capture of Andrew Luster". Zweimal sah man Samantha Ferris als Dr. Raully in "Stargate SG-1" die Geheimnisse fremder Kulturen erforschen.

2001 schaffte sie an der Seite von Morgan Freeman mit "Im Netz der Spinne" den Sprung auf die Kinoleinwand. Zusätzlich zu ihrer Schauspielarbeit lieh Samantha dem Videospiel zur TV- Serie "CSI" ihre Stimme. Sie sprach sowohl Leslie Handleman im Spiel "CSI - Dark Motives" als auch Mrs. Wilkinson in "CSI - Crime Scene Investigation".

In der USA-Network Serie "4400- Die Rückkehrer" trat sie in der Rolle der Nina Jarvis die Nachfolge von Peter Coyote als Chef der Homeland Security an und war in mehreren Staffeln von "Supernatural" als Ellen Harvelle zu sehen.

Nicole Silies & Elsa Claus - myFanbase
Filmographie (Schauspieler)
2012
The Tall Man als Tracy
Originaltitel: The Tall Man
2006 - 2011
Supernatural (TV) als Ellen Harvelle
Originaltitel: Supernatural (TV)
2010
Seven Deadly Sins (TV) als Diana Morgan
Originaltitel: Seven Deadly Sins (TV)
2010
Human Target (TV) als Deputy Director Lynch
Originaltitel: Human Target (#1.08 Baptiste) (TV)
2010
V (#1.06 Ein Pfund Fleisch & #1.11 Reifezeit) (TV) als Privatermittlerin
Originaltitel: V (TV)
2010
Hiccups (TV) als Bambi Weeks
Originaltitel: Hiccups (#1.13 You Shmooze, You Lose) (TV)
2009
Icarus als Kerr
Originaltitel: Icarus
2008 - 2009
Last Impact - Der Einschlag (TV) als Renee Ferguson
Originaltitel: Impact (#1.01 & #1.02)
2009
Grace als Patricia Lang
Originaltitel: Grace
2008
Der Todes-Twister als Reporter Lillian Herris
Originaltitel: NYC: Tornado Terror
2007
Butterfly on a Wheel als Diane
Originaltitel: Butterfly on a Wheel
2007
Battlestar Galactica (TV) als Deckhand Pollux
Originaltitel: Battlestar Galactica (#3.16 Dirty Hands) (TV)
2007
Lost in the Dark als Hines
Originaltitel: Lost in the Dark
2007
Tell Me No Lies als Shawna
Originaltitel: Tell Me No Lies
2006
Godiva's (TV) als Celebrity's Handler
Originaltitel: Godiva's (#2.07 Rubbing Shoulders) (TV)
2006
The Evidence (TV) als Lt. Alexa Brenner
Originaltitel: The Evidence (TV)
2005 - 2006
4400 - Die Rückkehrer (TV) als Nina Jarvis
Originaltitel: The 4400 (TV)
2006
Gray Matters als Elaine
Originaltitel: Gray Matters
2006
Last Chance Cafe (TV) als Madge Beardsley
Originaltitel: Last Chance Cafe (TV)
2005
Da Vinci's Inquest (TV) als Dolores Williams/Constable Samantha Townsend
Originaltitel: Da Vinci's Inquest (#4,10 Simple, Sad und #7.13 Must Be a Night for Fires) (TV)
2005
The L Word (#2.07 Leuchtende Pärchen) (TV) als Meryl Rothman
Originaltitel: The L Word (TV)
2005
Personal Effects (TV) als Gail Feldman
Originaltitel: Personal Effects (TV)
2005
Reunion (TV) als Captain Emily Fisher
Originaltitel: Reunion (#1.04 1989) (TV)
2004
The Chris Isaak Show (TV) als Dana Farrard/Swinger Gal #1
Originaltitel: The Chris Isaak Show (#1.17 Behind the Isaak und #3.13 Suspicion) (TV)
2004
The Ranch (TV) als Taylor
Originaltitel: The Ranch (TV)
2004
Smallville (#4.10 Angstgase) (TV) als Warden Anita Stone
Originaltitel: Smallville (TV)
2003
A date in the darkness: The trial and capture of Andrew Luster (TV) als Det. Katherine Cooke
Originaltitel: A date in the darkness: The trial and capture of Andrew Luster (TV)
2002
CSL - Crime Scene Lake Glory (#1.02 Besessen und #1.03 Die Wahrsagerin) (TV) als Helen
Originaltitel: Glory Days (#1.02 The Devil Made Me Do It und #1.03 Miss Fortune Teller) (TV)
2002
Herzschlag des Todes (TV) als weibliche Polizistin
Originaltitel: Dead in a Heartbeat (TV)
2002
Blackwoods - Hetzjagd in die Vergangenheit als Kellnerin/Beth
Originaltitel: Blackwoods
2001
Im Netz der Spinne als Mrs. Hume
Originaltitel: Along Came a Spider
2000
The Inspectors - Zerrissene Beweise (TV) als Lauren Urbina
Originaltitel: Inspectors 2: A Shred of Evidence (TV)
2000
Dumm gelaufen - Kidnapping für Anfänger als örtliche Nachrichtenmoderatorin
Originaltitel: Screwed
2000
Deadlocked - Die fünfte Gewalt (TV) als Reporterin
Originaltitel: Deadlocked (TV)
2000
Hollywood Off-Ramp (TV)
Originaltitel: Hollywood Off-Ramp (#1.12 The Ultimate Question) (TV)
2000
First Wave (TV) als Alice
Originaltitel: First Wave (#3.01 Mabuse) (TV)
2000
Fionas Website (#3.14 Stilleben) (TV) als Ms. Miranda Scott
Originaltitel: So Weird (TV)
1999
Der Sentinel - Im Auge des Jägers (TV) (#4.08 Die Wahrheit über den Sentinel) als Reporter #2
Originaltitel: The Sentinel (TV)
1999
Bettler und Sucher (TV) als Sandra Cassandra
Originaltitel: Beggars and Choosers (TV)
1999
Stargate SG-1 (#2.22 Höhle des Löwen (1) und #3.01 Höhle des Löwen (2)) (TV) als Dr. Raully
Originaltitel: Stargate SG-1 (TV)
1998
Welcome to Paradox (TV) als weibliche Richterin
Originaltitel: Welcome to Paradox (#1.05 The Girl Who Was Plugged In) (TV)
1998
The Inspectors - Der Tod kommt mit der Post (TV) als Lauren Urbina
Originaltitel: The Inspectors (TV)
1998
Die neue Addams Familie (#1.09 Wednesday haut ab) (TV) als Lacey
Originaltitel: The New Addams Family (TV)
1996
Viper (#3.14 Die Geldwäscher) (TV) als Reporterin
Originaltitel: Viper (TV)
Steckbrief
| | | |
| --- | --- | --- |
| Geburtsort | | Vancouver, Kanada |
Aktuelle Kommentare

30.11.2021 22:50
Mir gefällt die moderne Interpretation, dass Carrie...
von Catherine

26.11.2021 13:44
War diese Woche auch schon ganz durcheinander, weil...
von Lena
mehr Kommentare
Verpasst keine News und Updates