Jim Beaver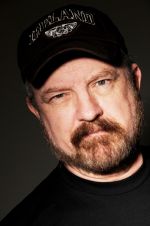 James "Jim" Norman Beaver, Jr. dürfte vielen bekannt sein aus der US-Serie "Deadwood", in der er 32 Folgen lang Whitney Ellsworth verkörperte. Jetzt ist er in "Supernatural" zu sehen, wo er Bobby Singer spielt. Aber er betätigte sich auch schon als Dramatiker, Drehbuchautor und Filmhistoriker.
Geboren wurde Jim am 12. August 1950 in Wyoming als ältester Sohn (er hat noch drei jüngere Schwestern) und hat Vorfahren aus vielen verschiedenen Ländern. Sein Vater ist englischer und französischer Herkunft. Sein Familienname ist eigentlich de Beauvoir. Seine Mutter ist eine schottisch-deutsche Cherokee und ein Nachfahrin eines Politikers und Generals. Die meiste Zeit seiner Kindheit verbrachte Jim in Irving, Texas und besuchte die Irving High School. In seinem Abschlussjahr jedoch ging er an die Fort Worth Christian Academy. Seinen Abschluss machte er dort 1968. Zu dieser Zeit stand für ihn jedoch noch nicht genau fest, dass er einmal Schauspieler werden würde. Jedoch interessierte er sich für Filmgeschichte und wollte als Autor arbeiten.
Nachdem er seinen Abschluss gemacht hatte, ging er zunächst zur Marine, in der er bis 1971 diente. Außerdem ging er zur Universität in Oklahoma, wo er auf's Theater aufmerksam wurde. Danach studierte er an der University of Central Oklahoma, wo er in mehreren Stücken auftrat. Nebenbei musste er als Taxifahrer und Stuntman eines Vergnügungsparks arbeiten, um sein Einkommen zu verbessern. In seiner College-Zeit begann er einige Theaterstücke und sein erstes Buch zu schreiben. Während er in vielen Stücken auftrat, welche er selbst geschrieben und dafür auch Preise gewonnen hat, betätigte er sich auch als Kolumnist und Kritiker. Während all seiner Arbeit fand er trotzdem noch die Zeit, eine Biografie über den unter mysteriösen Umständen ums Leben gekommenen George Reeves zu schreiben. George wurde vor allem durch seine Rolle des Clark Kent und Supermans in "The Adventures of Superman" bekannt. Um noch mehr über den verstorbenen Schauspieler heraus zu finden, zog Beaver 1983 nach Los Angeles. Im Theatre West in Hollywood fand er eine Einstellung und arbeitet dort bis heute als Schauspieler und Autor. Da seine Bekanntheit immer weiter stieg, wurde er von der Triad Artists Agency aufgenommen und schrieb für einige TV-Serien-Scripte, unter anderem für "Alfred Hitchcock zeigt" aus dem Jahr 1986, wofür er mit Preisen geehrt wurde. Nachdem es 1988 einen Streik der Writers Guild of America gab, wurde der Markt der freiberuflichen Autoren verändert und Jims Autorentätigkeit fürs Fernsehen kam zum Erliegen.
An dem 2005 erschienen Film "Die Hollywood-Verschwörung" über George Reeves' Tod hatte Jim erheblichen Anteil, denn er wirkte als Berater mit. Der Charakter, den er in "Deadwood" spielt, ist Whitney Ellsworth. Genauso hieß der Produzent von "Adventures of Superman", in dem George Reeves mitspielte.
Der heute 1,85 Meter große Jim Beaver heiratete 1973 Deborah S. Young, eine Mitstudentin; schon vier Monate später trennten sie sich und ließen sich 1976 scheiden. Da er seit seiner Kindheit mit Hank Worden, ebenfalls Schauspieler, befreundet ist, wohnten sie eine Zeit lang zusammen. 1989 schließlich heiratete er Cecily Adams, eine Schauspielerin und Castingchefin. 2001 wurde ihr gemeinsames Kind, Madeline, geboren. Cecily und er waren bis 2004 zusammen, dann starb Cecily an Lungenkrebs.
Elsa Claus - myFanbase
Ausgewählte Filmographie (Schauspieler)
2016
Better Call Saul (TV) als Lawson
Originaltitel: Better Call Saul (TV)
2006 - 2013
Supernatural (TV) als Bobby Singer
Originaltitel: Supernatural (TV)
2011 - 2013
Justified (TV) als Shelby
Originaltitel: Justified (TV)
2011 - 2012
Breaking Bad (TV) als Lawson
Originaltitel: Breaking Bad (TV)
2012
Dexter (TV) als Clint McKay
Originaltitel: Dexter (TV)
2011
The Legend of Hell's Gate: An American Conspiracy als J. Wright Mooar
Originaltitel: The Legend of Hell's Gate: An American Conspiracy
2009
Psych (#4.03 Spiel mir das Spiel vom Tod) (TV) als Stinky Pete Dillingham
Originaltitel: Psych (TV)
2009
Harper's Island (TV) als Sheriff Charlie Mills
Originaltitel: Harper's Island (TV)
2009
Dark and Stormy Night als Jack Tugdon
Originaltitel: Dark and Stormy Night
2008
Reflections als Frank
Originaltitel: Reflections
2008
The Silence of Bees als Parker Lam
Originaltitel: The Silence of Bees
2007
Day Break (TV) als Onkel 'Nick Vukovic'
Originaltitel: Day Break (TV)
2007
The Valley of Light (TV) als Radioprediger (Stimme)
Originaltitel: The Valley of Light (TV)
2007
John from Cincinnati (TV) als Vietnam Joe
Originaltitel: John from Cincinnati (TV)
2007
Big Love (TV) als Carter Reese
Originaltitel: Big Love (TV)
2007
Cooties als The Man
Originaltitel: Cooties
2007
Next als Wisdom
Originaltitel: Next
2007
Criminal Minds (TV) als Sheriff Williams
Originaltitel: Criminal Minds (#3.07 Identity) (TV)
2006
C.S.I.: Den Tätern auf der Spur (TV) als Stanley Tanner
Originaltitel: CSI: Crime Scene Investigation (TV)
2006
The Unit - Eine Frage der Ehre (TV) als Lloyd Cole
Originaltitel: The Unit (#2.04 Manhunt) (TV)
2004 - 2006
Deadwood (TV) als Whitney Ellsworth
Originaltitel: Deadwood (TV)
2004
Crossing Jordan - Pathologin mit Profil (TV) als Ranger Diggory
Originaltitel: Crossing Jordan (#3.10 Revealed) (TV)
2004
Monk (TV) als Sheriff Mathis
Originaltitel: Monk (TV)
2003
The Lyon's Den (TV) als Hank Ferris
Originaltitel: The Lyon's Den (TV)
2003
Tremors (TV) als Sheriff Sam Boggs
Originaltitel: Tremors (TV)
2003
Six Feet Under - Gestorben wird immer (TV) als Gefängniswärter
Originaltitel: Six Feet Under (TV)
2003
The Commission als Howard L. Brennan
Originaltitel: The Commission
2003
Das Leben des David Gale als Duke Grover
Originaltitel: The Life of David Gale
2002
Andy Richter und die Welt (TV) als Sträfling
Originaltitel: Andy Richter Controls the Universe (TV)
2002
Adaption - Der Orchideendieb als Ranger Tony
Originaltitel: Adaptation
2002
Wheelmen als Agent Hammond
Originaltitel: Wheelmen
2001
Philly (TV) als Nelson Vanderhoff
Originaltitel: Philly (TV)
2001
The West Wing (TV) als Carl
Originaltitel: The West Wing (TV)
2001
Star Trek: Enterprise als Admiral Daniel Leonard
Originaltitel: Enterprise (TV)
2001
Lady Cops - Knallhart weiblich (TV) als Fred Zito
Originaltitel: The Division (TV)
2001
Warden of Red Rock (TV) als Jefferson Bent
Originaltitel: Warden of Red Rock (TV)
2001
Die wilden Siebziger (TV) als Tony
Originaltitel: That '70s Show (TV)
2000 - 2001
Schatten der Leidenschaft (TV) als Leonardo Sylvestri
Originaltitel: The Young and the Restless (TV)
2001
Joy Ride - Spritztour als Sheriff Ritter
Originaltitel: Joy Ride
2000
The Trouble with Normal (TV) als Gary
Originaltitel: The Trouble with Normal (TV)
2000
Wo Dein Herz schlägt als Clawhammer (nicht im Abspann genannt)
Originaltitel: Where the Heart Is
2000
Fraud als Detective Mason
Originaltitel: Fraud
1998 - 1999
Hinterm Mond gleich links (TV) als Happy Doug
Originaltitel: 3rd Rock from the Sun (TV)
1999
Akte X - Die unheimlichen Fälle des FBI (TV) als Leichenbeschauer
Originaltitel: The X Files (TV)
1999
Magnolia als Lächelnder Peanut-Gast #1
Originaltitel: Magnolia
1999
Ah! Silenciosa als Ambrose Bierce
Originaltitel: Ah! Silenciosa
1999
Impala als Sheriff Bert Davis
Originaltitel: Impala
1998
Mr. Murder (TV) als Agent Jason Reiling
Originaltitel: Mr. Murder (TV)
1998
Pensacola - Flügel aus Stahl (TV) als ???
Originaltitel: Pensacola: Wings of Gold (TV)
1998
Melrose Place (TV) als Ranger Virgil
Originaltitel: Melrose Place (TV)
1998
The Adventures of A.R.K. (Animal Rescue Kids) (TV) als Ranger Earl
Originaltitel: The Adventures of A.R.K. (Animal Rescue Kids) (TV)
1998
Unsere verrückte Farm als Foreman
Originaltitel: At Sachem Farm
1997
Total Security (TV) als Detective McKissick
Originaltitel: Total Security (TV)
1997
Im Bann des Terrors (TV) als Danny Leland
Originaltitel: Divided by Hate (TV)
1997
Spy Game (TV) als Thornbush
Originaltitel: Spy Game (TV)
1997
Moloney (TV) als Detective Ashton
Originaltitel: Moloney (TV)
1997
New York Cops - NYPD Blue (TV) als Truckerfahrer/Jesus
Originaltitel: NYPD Blue (TV)
1997
Zum Abschuss freigegeben als Agent Eric Ashton
Originaltitel: Wounded
1996
Zeit der Sehnsucht (TV) als Vater Timothy Jansen
Originaltitel: Days of Our Lives (TV)
1996
Murder One - Der Fall Jessica (TV) als Donald Cleary
Originaltitel: Murder One (TV)
1996
High Incident - Die Cops von El Camino (TV) als Vater im Wreck
Originaltitel: High Incident (TV)
1995
Hör' mal, wer da hämmert (TV) als Duke Miller
Originaltitel: Home Improvement (TV)
1994 - 1995
Thunder Alley (TV) als Leland DuParte
Originaltitel: Thunder Alley (TV)
1994
Children of the Dark - Kinder der Dunkelheit TV) als Roddy Gibbons (nicht im Abspann genannt)
Originaltitel: Children of the Dark (TV)
1994
Bad Girls als Pinkerton Detective Graves
Originaltitel: Bad Girls
1994
Blue Chips als Rickys Vater
Originaltitel: Blue Chips
1994
Twogether als Oscar
Originaltitel: Twogether
1993
Superman – Die Abenteuer von Lois und Clark als Henry Barnes
Originaltitel: Lois & Clark: The New Adventures of Superman (TV)
1993
Rauchende Colts - Er ist das Gesetz (TV) als Traveling Blacksmith
Originaltitel: Gunsmoke: The Long Ride (TV)
1993
Geronimo - Das Blut der Apachen als Proclamation officer
Originaltitel: Geronimo: An American Legend
1993
Sliver - Gier der Augen als Detective Ira
Originaltitel: Sliver
1991 - 1992
California Clan (TV) als Andy
Originaltitel: Santa Barbara (TV)
1992
Faustrecht des Westens (TV) als Deputy Willie Rudd
Originaltitel: Gunsmoke: To the Last Man (TV)
1992
Sister Act - Eine himmlische Karriere als Detective Clarkson
Originaltitel: Sister Act
1991
Reasonable Doubts (TV) als Detective Earl Gaddis
Originaltitel: Reasonable Doubts (TV)
1991
Little Secrets als Kassierer des Likörladens (als Richard Muldoon)
Originaltitel: Little Secrets
1990
Ein gesegnetes Team als Drake
Originaltitel: Father Dowling Mysteries (TV)
1990
The Court-Martial of Jackie Robinson (TV) als Major Trimble
Originaltitel: The Court-Martial of Jackie Robinson (TV)
1990
El Diablo - Der mit dem Teufel tanzt (TV) als Spivey Irick
Originaltitel: El Diablo (TV)
1990
Follow Your Heart (TV) als Craig Hraboy
Originaltitel: Follow Your Heart (TV)
1990
Die Ninja-Cops (TV) als Wetstone
Originaltitel: Nasty Boys (TV)
1990
Der Nachtfalke (TV) als Tom Barlow
Originaltitel: Midnight Caller (TV)
1989
The Young Riders (TV) als Johnson
Originaltitel: The Young Riders (TV)
1989
Mothers, Daughters and Lovers (TV) als Sheriff Jack Edzard
Originaltitel: Mothers, Daughters and Lovers (TV)
1989
CBS Summer Playhouse (TV) als Nachbar des falschen Hauses
Originaltitel: CBS Summer Playhouse (TV)
1989
Zurück aus der Hölle als Earl Smith
Originaltitel: In Country
1989
The Cherry als The Captain
Originaltitel: The Cherry
1989
Scott & Huutsch als Fabrikmanager
Originaltitel: Turner & Hooch
1989
Mergers & Acquisitions als Gabby Hayes
Originaltitel: Mergers & Acquisitions
1988
Guns of Paradise (TV) als Frank Foster
Originaltitel: Guns of Paradise (TV)
1988
Perry Mason - Die Tote im See (TV) als Motel-Manager
Originaltitel: Perry Mason: The Case of the Lady in the Lake (TV)
1988
Matlock (TV) als Barney Sutler
Originaltitel: Matlock (TV)
1988
Defense Play - Mörderische Spiele als FBI-Agent
Originaltitel: Defense Play
1988
Two Idiots in Hollywood als weinender Mann
Originaltitel: Two Idiots in Hollywood
1988
Operation Vietnam als Autor
Originaltitel: Tour of Duty (TV)
1988
USO Down (TV) als Autor
Originaltitel: USO Down (TV)
1987
Jake und McCabe - Durch dick und dünn (TV) als Strafverteidiger
Originaltitel: Jake and the Fatman (TV)
1987
Hollywood Shuffle als Postarbeiter
Originaltitel: Hollywood Shuffle
1987
Boone - Ein Schurke unter Schurken als Schmuggler (nicht im Abspann genannt) und Auto von zusätzlichen Dialogen
Originaltitel: Sweet Revenge
1986 - 1987
Alfred Hitchcock zeigt (TV) als Autor
Originaltitel: Alfred Hitchcock Presents (TV)
1987
Vietnam War Story (TV) als Autor
Originaltitel: Vietnam War Story (TV)
1985
File 8022 als Ben Crysler (als James Beaver)
Originaltitel: File 8022
1983
Operation Osaka (TV) als Fußgänger (nicht im Abspann genannt)
Originaltitel: Girls of the White Orchid (TV)
1983
Silkwood als Fabrikmanager
Originaltitel: Silkwood
1981
Nachtfalken als U-Bahn-Passagier (nicht im Abspann genannt)
Originaltitel: Nighthawks
1978 - 1979
Dallas (TV) als Julies Gärtner / Diner
Originaltitel: Dallas (TV)
1979
Dallas Cowboys Cheerleaders (TV) als Cowboy-Spieler
Originaltitel: Dallas Cowboys Cheerleaders (TV)
1979
Warnings als Der Künstler
Originaltitel: Warnings
1978
Desperado (TV) als Nathan
Originaltitel: Desperado (TV)
1978
The Seniors als Klient (nicht im Abspann genannt)
Originaltitel: The Seniors
1977
Superprofis trumpfen auf als B.E.A.T.-Mitglied (nicht im Abspann genannt)
Originaltitel: Semi-Tough
Ausgewählte Filmographie (Produktion)
1988
Nam - Dienst in Vietnam (#1.13 USO Down) (TV) als Drehbuchautor
Originaltitel: Nam - Dienst in Vietnam (#1.13 USO Down) (TV)
1986 - 1987
Alfred Hitchcock zeigt (TV) als Drehbuchautor
Originaltitel: Alfred Hitchcock Presents (TV)
1987
Boone - Ein Schurke unter Schurken als Drehbuchautor
Originaltitel: Sweet Revenge
1987
Vietnam War Story (TV) als Drehbuchautor
Originaltitel: Vietnam War Story (TV)
Steckbrief
| | | |
| --- | --- | --- |
| Geburtstag | | 12.08.1950 |
| Geburtsort | | Laramie, Wyoming, USA |
Aktuelle Kommentare
Verpasst keine News und Updates