Station Eleven

"Station Eleven" basiert auf dem gleichnamigen Roman von Emily St. John Mandel und wurde für HBO Max entwickelt. Für die Adaption ist Patrick Somerville verantwortlich. Als einer der Hauptdarsteller wurde Daniel Zovatto ("Fear the Walking Dead") verpflichtet. Die Miniserie wurde vom 16. Dezember 2021 bis 13. Januar 2022 ausgestrahlt. In Deutschland findet die Streamingpremiere am 30. Januar 2022 bei Starzplay statt.

---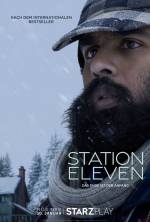 Himesh Patel, Station Eleven
© 2021 WarnerMedia Direct, LLC. All Rights Reserved. Starz and related marks are the property of Starz Entertainment, LLC.
Serienmacher: Patrick Somerville & Emily St. John Mandel (Vorlage)
US-Ausstrahlung: ab 16. Dezember 2021 bis 13. Januar 2022 auf HBO Max
D-Ausstrahlung (Streaming): ab 30. Januar 2022 auf Starzplay
Staffeln:


News zur Serie:

"Station Eleven" ansehen:
Partnerlinks zu
---

Die Serie setzt 20 Jahre nach einer Grippepandemie ein, die zum Zusammenbruch der Zivilisation geführt hat. Eine Gruppe der Überlebenden schlägt sich als Darsteller durch. Dabei treffen sie auf einen Kult. Jener wird von einem Mann angeführt, der Verbindungen zur Gruppe hat. In mehreren Zeitebenen wird erzählt, wie die Zivilisation wieder aufgebaut werden soll... mehr

Im Hauptcast von "Station Eleven" spielen:
Mackenzie Davis
Matilda Lawler
David Wilmot
Nabhaan Rizwan
Julian Obradors
Philippine Velge
Interessante Nebendarsteller*innen:

Emil meint: Die langsame und bedrückende Auftaktepisode der Miniserie "Station Eleven" eröffnet sehr viel Potenzial und macht neugierig, lässt aber auch noch sehr viel offen, so dass man noch gar kein richtiges Gefühl für die Erzählweise und den Stil der Serie entwickeln konnte... mehr

Externer Inhalt
An dieser Stelle ist Inhalt von einer anderen Website (z. B. YouTube, Twitter...) eingebunden. Beim Anzeigen werden deine Daten zu der entsprechenden Website übertragen.
Kommentare
Meistgelesen
Aktuelle Kommentare
Verpasst keine News und Updates