Insecure

"Insecure" ist ein gemeinsames Projekt von Issa Rae und Larry Wilmore, das Anfang 2015 von HBO grünes Licht für einen Serienorder bekam. Die erste acht Episoden umfassende Staffel wurde am 9. Oktober 2016 ausgestrahlt.

"Insecure" wird 2021 nach fünf Staffeln enden.

---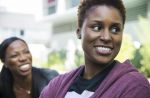 Yvonne Orji & Issa Rae, Insecure
© 2016 Home Box Office, Inc. All rights reserved. HBO® and all related programs are the property of Home Box Office, Inc.; Anne Marie Fox
Serienmacher: Issa Rae & Larry Wilmore
US-Ausstrahlung: ab 09. Oktober 2016 auf HBO
D-Ausstrahlung (Pay-TV): ab 08. März 2017 auf Sky Atlantic
Staffeln:

Staffel 1 (8 Episoden)
Staffel 2 (8 Episoden)
Staffel 3 (8 Episoden)
Staffel 4 (10 Episoden)
Staffel 5 (?? Episoden)

Status: endet mit Staffel 5

News zur Serie:

---
Issa Dee (Issa Rae) und Molly (Yvonne Orji) sind zwei schwarze Frauen und beste Freundinnen, die versuchen, in der modernen Welt mit ihren Irrungen und Wirrungen zurechtzukommen. Unterstützung erfahren die beiden auch durch Issas Kollegin Frieda (Lisa Joyce), die verständnisvoll und freiheitsliebend ist.


Im Hauptcast von "Insecure" spielen:

Yvonne Orji
Jay Ellis
Lisa Joyce
Y'lan Noel
Langston Kerman
Externer Inhalt
An dieser Stelle ist Inhalt von einer anderen Website (z. B. YouTube, Twitter...) eingebunden. Beim Anzeigen werden deine Daten zu der entsprechenden Website übertragen.
Kommentare
Meistgelesen
Aktuelle Kommentare

22.06.2021 18:46
Nee, Marie, die Serie erfindet sich sicherlich nicht...
von Lena

22.06.2021 11:21
Ich habe gerade das Staffelfinale gesehen und bin...
von Marie
mehr Kommentare
Verpasst keine News und Updates