I May Destroy You

"I May Destroy You" ist eine Serie, die aus Großbritannien stammt und hinter der Michaela Coel steht, die auch in der Hauptrolle zu sehen ist. Weitere Rollen in der zwölfteiligen ersten Staffel haben beispielsweise Ann Akin, Adam James, Sarah Niles und weitere Darsteller übernommen. In den USA ist die erste Staffel am 7. Juni 2020 bei HBO gestartet; in Großbritannien fiel am 8. Juni 2020 bei BBC One der Startschuss.

---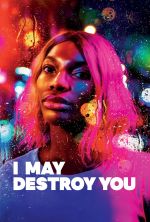 Michaela Coel, I May Destroy You
© Home Box Office, Inc. All rights reserved. HBO® and all related programs are the property of Home Box Office, Inc.
Serienmacher: Michaela Coel
US-Ausstrahlung: ab 7. Juni 2020 auf HBO
UK-Ausstrahlung: ab 8. Juni 2020 auf BBC One
D-Ausstrahlung (Pay-TV): ab 19. Oktober 2020 auf Sky
Staffeln:


News zur Serie:

"I May Destroy You" ansehen:
---
Im Zentrum steht die Online-Journalistin Arabella Essiuedu (Michaela Coel), die durch einen Artikel über sexuelle Selbstbestimmung junger Frauen zur Stimme ihrer Generation gemacht wird. Nach der Veröffentlichung ihres ersten Buchs "Chronicles of a Fed-Up Millennial" steht Arabella immer mehr unter Druck, weshalb sie ihr zweites Buch nicht fertigstellen kann. Als sie einen Freund in einen Nachtclub begleitet, wird sie mit K.O.-Tropfen betäubt und vergewaltigt. Nach einem Filmriss wird Arabella klar, was ihr selbst widerfahren ist.


Im Hauptcast von "I May Destroy You" spielen:

Ann Akin
Weruche Opia
Aml Ameen
Adam James
Sarah Niles
Paapa Essiedu
Kommentare
Aktuelle Kommentare
Verpasst keine News und Updates