Banshee - Inhalt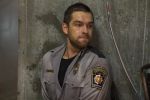 Antony Starr, Banshee
© 2013 Home Box Office, Inc. All rights reserved. HBO® and all related programs are the property of Home Box Office, Inc.
In dem kleinen Örtchen Banshee herrscht weder klassisches Gesetz, noch echte Ordnung. Denn Lucas Hood (Antony Starr), der Sheriff der kleinen Stadt, ist ein ehemaliger Dieb, der sich diese Position nach 15 Jahren Gefängnis ergaunert hat, um in der Nähe seiner großen Liebe Anastasia (Ivana Milicevic) sein zu können.

Sein Gegenspieler ist der ukrainische Mafiaboss Mr. Rabbit (Ben Cross), den er vor Jahren betrog. Mr. Rabbit ist zudem Anastasias Vater, und Anastasia, die sich jetzt Carrie nennt, hat eine Tochter, die allerdings nicht weiß, dass Hood ihr Vater ist.

In Banshee leben noch viele andere gewaltbereite Zeitgenossen, darunter der hiesige Gangsterboss Kai Procter (Ulrich Thomsen), der ehemals zur Gemeinde der Amish People gehörte, und die traditionsbewussten Longshadows, Mitglieder des ortsansässigen Kinaho Stammes.

Jamie Lisa Hebisch - myFanbase

Zurück zur "Banshee"-Übersicht
Meistgelesen
Aktuelle Kommentare

18.05.2022 14:07
Danke für die Vorwarnung :D Hab schon bei den letzten...
von Daniela

18.05.2022 11:11
Ich fand die Folge diesmal stilistisch doch sehr unrund....
von Lena
mehr Kommentare
Verpasst keine News und Updates