Starz mit Trailer für "The Serpent Queen" mit Samantha Morton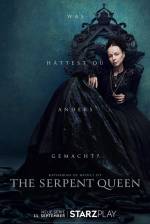 Samantha Morton, The Serpent Queen
© MMXXII Lions Gate Television Inc. All rights reserved.; Starz Entertainment, LLC. Starz and related channels and service marks are the property of Starz Entertainment LLC.
Am 11. September 2022 startet in den USA bei Starz die achtteilige Serie "The Serpent Queen", in der Samantha Morton in der Rolle der Catherine von Medici zu sehen sein wird. Dafür wurde nun ein erster Trailer veröffentlicht, den ihr euch unten ansehen könnt. Auch die deutsche Fassung steht bereit. Hierzulande wird die Serie ebenfalls bereits ab dem 11. September 2022 bei Starzplay zu sehen sein.

Starzplay bei Prime Video Channels abonnieren

"The Serpent Queen" wird von Autor und Produzent Justin Haythe ("Red Sparrow") nach einer Buchvorlage von Leonie Frieda adaptiert. Die Produktion übernimmt Francis Lawrence gemeinsam mit Erwin Stoff ("Matrix", "Edge of Tomorrow"). Die Regie einiger Episoden einschließlich der Pilotfolge führt Stacie Passon ("Dickinson", "Billions"). Die Serie wird acht Episoden umfassen.
Externer Inhalt
An dieser Stelle ist Inhalt von einer anderen Website (z. B. YouTube, Twitter...) eingebunden. Beim Anzeigen werden deine Daten zu der entsprechenden Website übertragen.
Quelle: TVLine, Starz, Starzplay
Daniela S. - myFanbase
28.07.2022 22:35
Weitere News
Meistgelesen
Verpasst keine News und Updates