"Sons of Anarchy"-Con in Oberhausen (Update)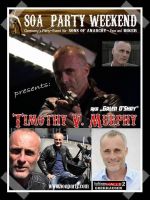 © Jörg Bürrig
Die Fans von "Sons of Anarchy" sollten sich das Wochenende vom 8. und 9. August im Kalender markieren, denn dann findet das "Sons of Anarchy Party Weekend" statt. Auf der ersten Party-Convention in Deutschland für die Fans der Erfolgsserie von Kurt Sutter gibt es die Möglichkeit, den anwesenden Darstellern aus der Serie Fragen zu stellen, sich Fotos und Autogramme zu sichern und abends mit den Stars zusammen zu feiern.

Veranstaltet wird die Convention von Con-Vent und findet in der Turbinenhalle² in Oberhausen statt. Den Besuchern werden verschiedene Dinge geboten wie Tatto Walk-In, Mototrrad-Ausstellung, eine Verlosung zu Gunsten der B.A.C.C.A und vieles mehr. Am Samstag treten die Bands "The Other" und "Skimm" auf. Sonntagabend stehen "Ski King", "Jimmy Cornett and the Deadmen" und einer der "Sons of Anarchy"-Stargäste, Niko Nicotera, mit seinem Song "Holy Man" auf der Bühne.

Nicotera spielt in "Sons of Anarchy" Ratboy und ist Fans ebenfalls aus Gastrollen in "Castle" und "Gotham" bekannt. Zudem wird Mo McRae erwartet, der die Rolle des Tyler spielt. Kürzlich wurde zudem Kenny Johnson angekündigt, der in SOA die Rolle des Kozik spielt. Ihn kennt man zudem auch aus "The Shield - Gesetz der Gewalt" oder aktuell aus "Chicago Fire" und "Bates Motel".

Timothy V. Murphy, der den Fans der Biker-Serie als Galan O'Shay bekannt ist, kommt auch nach Oberhausen! Aktuell arbeitet Murphy übrigens wieder mit Kurt Sutter zusammen und zwar an dessen neuer Serie "The Bastard Executioner". Er kommt direkt vom Dreh aus nach Deutschland, die Fans können ihn in den Panels also zu seinem neuen Projekt ausfragen.

Update: Con-Vent hat ein weiteres Highlight zu seiner Party Convention hinzugefügt: Michael Knepper kommt nach Oberhausen! Der deutsche Maler und passionierte Biker ist von FOX zum offiziell lizensierten Künstler für "Sons of Anarchy" ernannt worden. Beim Party Weekend wird er einige seiner Werke ausstellen und sicherlich auch die ein oder andere Story zu den Bildern erzählen können. Wer sich vorab einige seiner Gemälde einmal anschauen will, besucht am besten seine Homepage.

Es gibt sowohl Weekend-Tickets für beide Tage ab 40€, als auch Tagestickets für 20€ (Samstags) beziehungsweise 25€ (Sonntags). Wer das volle Programm haben will, kann sich ein VIP-Ticket für 90€ zulegen und bekommt dafür ein Autogramm, ein Fotoshoot, ein Event-T-Shirt und ein "Special Ticket" mit Schlüsselband; der Eintritt für beide Tage ist natürlich auch mit drin. Dieses VIP Ticket gibt es allerdings nur im Vorverkauf. Wenn ihr euch weiter über das Event informieren wollt, dann schaut auf der offiziellen Internetseite des "SOA Party Weekends" vorbei.

Quelle: CON-VENT
Nicola Porschen - myFanbase
14.06.2015 22:33
Weitere News
mehr News
Meistgelesen
Verpasst keine News und Updates