"How to Get Away with Murder" verliert Hauptdarstellerin in finaler Staffel (Spoiler)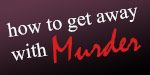 Gerade erst ist die ABC-Crimeserie "How to Get Away with Murder" in seine finale sechste Staffel gestartet, schon müssen die Fans die Nachricht verkraften, dass eine Darstellerin nicht mehr zum Hauptcast gehört.

Laut TVLine handelt es sich dabei um Schauspielerin Karla Souza. Sie war von der ersten Staffel als Laurel Castillo zu sehen. Dass sie keine Hauptdarstellerin mehr ist, verriet der Vorspann der Serie, in dem Souza im Staffelauftakt nicht mehr aufgeführt war.

In einem kürzlichen Interview sagte Showrunner Peter Nowalk, dass das Verschwinden von Laurel und ihrem Sohn Christopher eines der "größten Rätsel dieser Staffel" ist. Nowalk versprach außerdem, dass man den Zuschauer möglichst schnell Antworten zu Laurels Verschwinden geben wird.

Karla Souza ist zwar keine Hauptdarstellerin mehr, das schließt aber nicht aus, dass sie nochmals als Gastdarstellerin zurückkehren wird.

Alle weiteren Informationen findet ihr in unserem ausführlichen "How to Get Away with Murder"-Serienbereich.
Externer Inhalt
An dieser Stelle ist Inhalt von einer anderen Website (z. B. YouTube, Twitter...) eingebunden. Beim Anzeigen werden deine Daten zu der entsprechenden Website übertragen.
Quelle: TVLine
Daniela S. - myFanbase
28.09.2019 07:19
Weitere News
mehr News
Meistgelesen
Verpasst keine News und Updates