Gewinnspiel: Battle of the Sexes - Gegen jede Regel
Im Zuge der sexuellen Revolution und dem Aufschwung der Frauenbewegung wird 1973 in den USA der Schaukampf zwischen der weltweiten Nr. 1 des Frauentennis, Billie Jean King (Emma Stone), und dem Ex-Tennis Champion und notorischen Zocker Bobby Riggs (Steve Carell) als "Battle Of The Sexes" angekündigt und mit 90 Millionen Zuschauern weltweit zum meist gesehenen Sportevent der Fernsehgeschichte. Während sich die beiden Rivalen inmitten der medialen Hysterie auf das Match vorbereiten, müssen sie privat weit komplexere Kämpfe mit sich selbst ausfechten. King, eine äußerst zurückhaltende Person, ist nicht nur eine Verfechterin der Gleichberechtigung, sondern kämpft auch mit ihrer eigenen Sexualität, als sie für ihre Vertraute Marilyn Barnett (Andrea Riseborough) mehr als nur Freundschaft empfindet. Und Briggs, einer der ersten Selfmade-Promis des Medienzeitalters, kämpft mit dem Dämon der Spielsucht, der sein Familienleben und die Beziehung zu seiner Ehefrau Priscilla gefährdet. Billie Jean King und Bobby Riggs lieferten zusammen ein kulturelles Spektakel, das weit über den Tennisplatz hinaus wirkte, und Diskussionen in Schlafzimmern und Vorstandsetagen entfachte, die noch bis heute nachhallen.

Externer Inhalt
An dieser Stelle ist Inhalt von einer anderen Website (z. B. YouTube, Twitter...) eingebunden. Beim Anzeigen werden deine Daten zu der entsprechenden Website übertragen.
Um am Gewinnspiel teilzunehmen, beantwortet in den Kommentaren folgende Frage:

Gleichberechtigung - Was muss sich da heute noch ändern?

Unter allen Teilnehmern werden zum Kinostart von "Battle of the Sexes - Gegen jede Regel" am 23. November 2017 zwei Fanpakete bestehend aus Filmplakat und zwei Kinotickets ausgelost.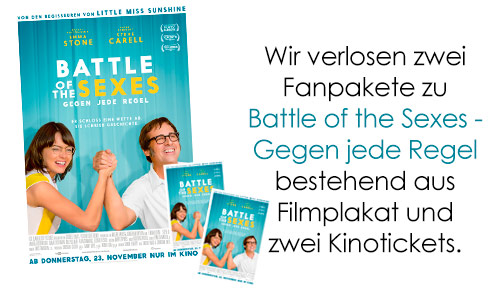 © 2017 Twentieth Century Fox
Bitte bedenkt, dass ihr eine korrekte E-Mail-Adresse bei der Nutzung der Kommentarfunktion angebt, damit wir euch im Falle eines Gewinns benachrichtigen können. Außerdem stimmt ihr mit der Nutzung der Kommentarfunktion den Teilnahmebedingungen und der Datenschutzerklärung automatisch zu.

Teilnahmeschluss: 23. November 2017

Das Gewinnspiel ist beendet.

Kommentare
Meistgelesen
Aktuelle Kommentare

21.10.2021 10:44
Die Serie ist bereits verlängert :)Ich mische mich auch...
von Lena

19.10.2021 12:54
Ich liebe die Serie und ich würde sie gerne weiter sehen...
von Xenia-Amira Oltean
mehr Kommentare
Verpasst keine News und Updates