Forest Whitaker
First Daughter - Date mit Hindernissen
The girl who always stood out is finally getting the chance to fit in.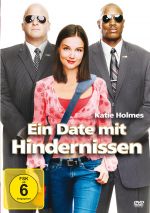 © Twentieth Century Fox Home Entertainment
Inhalt
Fernab vom Weißen Haus möchte die Präsidententochter Samantha (Katie Holmes) endlich ungestört ihr Leben genießen und darf schließlich auf ein College gehen. Aber sogar dort vermasseln ihr die Bodyguards den Spaß. Als sie jedoch auf den Studienberater ihres Wohnheims, James (Marc Blucas), trifft, fasst sie neuen Mut. Er scheint sie zu verstehen und wie ein ganz normales Mädchen zu behandeln. Bis sie die Wahrheit über ihn herausfindet...
Kritik
Zugegeben, die Story ist nichts neues mehr, aber bei einer Teeniekomödie ist für gewöhnlich auch nichts anderes zu erwarten. Also einfach den Kopf ausschalten und sich auf den Film einlassen, lautet hier die Divise.
Ohne große Überraschungen plätschert der Film so vor sich hin, ist aber keineswegs langweilig. Die witzigen Szenen können meistens punkten und so hat man durchaus Spaß dabei zuzuschauen, wie sich Samantha durch das College-Leben schlägt. Dabei ist sie aber nicht allein, denn in James hat sie einen guten Freund gefunden. Und, wie könnte es anders sein, verlieben sie sich. Bis dahin ist also die ganze Handlung ziemlich vorhersehbar. Aber durch die überraschende Wende kann "First Daughter" gegen Schluss noch einmal richtig für Spannung sorgen und sich dadurch ein kleines bisschen von den anderen Teeniefilmen abheben.
Manchmal kommt es einem aber doch so vor, als wollte diese Komödie nur Propaganda für den amerikanischen Präsidenten machen, was ziemlich nervig ist und noch dazu der Sympathie des Films schadet. Manche Szenen mit den Wahlplakaten oder Events hätte man weglassen können.
Katie Holmes kann als braves Mädchen überzeugen, wirkt aber trotzdem manchmal zu anständig und es kommt mir in manchen Szenen so vor, als hätte sie ihr Potential nicht ganz ausgeschöpft. Aber im Großen und Ganzen kann man mit ihrer Schauspielleistung zufrieden sein. Dagegen hat mich Marc Blucas von Anfang an überzeugen können und auch Michael Keaton hat in seiner Rolle als Mr. President eine gute Figur gemacht.
Fazit
Fans von Teeniekomödien werden von diesem Film sicherlich gut unterhalten werden, für alle anderen ist "First Daughter" nur mit Vorsicht zu genießen.


Tanya Sarikaya - myFanbase
31.03.2009
Weitere Informationen
Originaltitel: First Daughter
Veröffentlichungsdatum (USA): 24.09.2004
Veröffentlichungsdatum (
DE
): 13.01.2005
Länge: 107 Minuten
Regisseur: Forest Whitaker
Drehbuchautor: Jerry O'Connell, Jessica Bendinger, Kate Kondell
Genre: Romance, Komödie, Drama
Jetzt bestellen

DVD jetzt bei Amazon.de
bestellen
Darsteller/Charaktere
Katie Holmes
als Samantha Mackenzie
Marc Blucas
als James Lansome
Amerie
als Mia Thompson
Michael Keaton
als President Mackenzie
Margaret Colin
als Melanie Mackenzie
Aktuelle Kommentare
Verpasst keine News und Updates