Good Night, and Good Luck.
Ihre Waffe war die Wahrheit!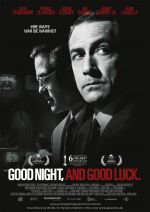 © Kinowelt Filmverleih GmbH
Inhalt
USA, 1953, in einer der Hochphasen des Kalten Krieges: Im ganzen Land herrscht eine angespannte Angst vor dem Kommunismus. Senator Joseph McCarthy aus Wisconsin nutzt die Gunst der Stunde, um Jagd auf die Linken zu machen. Doch obwohl das Land anfangs hinter ihm stand, treibt McCarthy seinen Hass auf die Spitze. Jeder wird verdächtigt und schon der kleinste Widerspruch ist ein Schuldeingeständnis.
Einzig die kleine Nachrichtenredaktion der CBS-Sendung "See It Now" rund um den Journalisten Edward R. Murrow (David Strathairn) stellt sich dem Senator offen in den Weg. Doch der Gegenschlag von McCarthy lässt nicht lange auf sich warten...
Kritik
Nach "Geständnisse – Confessions of a Dangerous Mind" ist "Good Night, and Good Luck" die zweite Regiearbeit von George Clooney. Das Hauptthema des Films ist – wie schon bei seinem Erstlingswerk – das Fernsehen.
Nun erzählt Clooney die wahre Geschichte des Fernsehjournalisten Edward R. Murrow, der in seiner TV-Sendung gegen Senator Joseph McCarthy kämpfte. Warum gerade dieses Thema? Ganz einfach, für Clooney und seinen Vater, einem Fernsehjournalisten, war Murrow immer ein Vorbild gewesen. Mit der Verfilmung der Geschichte erfüllte sich Clooney einen Kindheitstraum. Clooney war wild entschlossen gewesen, den Film zu drehen, und das obwohl sich keine Geldgeber für das Projekt finden ließen. So setzte Clooney kurzerhand seinen eigenes Haus als Kaution für den Film ein und bezahlte ihn aus eigener Tasche.
Mit viel Gefühl und Sensibilität ging Clooney ans Werk. Er schrieb gemeinsam mit Grant Heslov ("True Lies") das Drehbuch und ist auch als Nebendarsteller in dem Film zu sehen. Und dank dieses großartigen Drehbuchs war es auch nicht schwer, exzellente Darsteller für den Film zu gewinnen. So ist David Strathairn als Murrow zu sehen. In Nebenrollen glänzen unter anderem Tate Donovan, Patricia Clarkson, Matt Ross und Robert Downey Jr.. Senator McCarthy ist nur in Originalausschnitten zu sehen, was den Film noch glaubwürdiger macht. Auch die Tatsache, dass der Film komplett in schwarz-weiß gedreht wurde, sorgt dafür, dass sich der Zuschauer besser in das Geschehen einfindet.
Clooneys Einsatz für sein Werk zeigte schon schnell ganze Wirkung. Der Film gewann auf den verschiedendsten Film-Festivals der Welt und war für sechs Oscars nominiert - nahm jedoch keinen der heißbegehrten Preise mit nach Hause.
Fazit
Ein sehenswerter und intelligenter Film von und mit George Clooney.


Eva Klose - myFanbase
20.01.2008
Weitere Informationen
Originaltitel: Good Night, and Good Luck.
Veröffentlichungsdatum (USA): 14.10.2005
Veröffentlichungsdatum (
DE
): 06.04.2006
Länge: 93 Minuten
Regisseur:
George Clooney
Drehbuchautor:
George Clooney
, Grant Heslov
Genre: Drama
Aktuelle Kommentare
Verpasst keine News und Updates