"Fear the Walking Dead" präsentiert Charakterposter für Staffel 6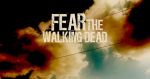 Am 11. Oktober 2020 startet beim US-Kabelsender AMC die sechste Staffel von "Fear the Walking Dead". Neben dem vor längerer Zeit ein Trailer veröffentlicht wurde, präsentieren die Verantwortlich nun Charakterposter für die kommende Staffel (siehe unten).

Alles Weitere zum "The Walking Dead"-Spin-Off findet ihr in unserem ausführlichen Serienbereich.
Externer Inhalt
An dieser Stelle ist Inhalt von einer anderen Website (z. B. YouTube, Twitter...) eingebunden. Beim Anzeigen werden deine Daten zu der entsprechenden Website übertragen.
Quelle: @FearTWD via Twitter, @feartwd via Instagram
Daniela S. - myFanbase
13.09.2020 13:21
Weitere News
mehr News
Meistgelesen
Verpasst keine News und Updates