Malcolm-Jamal Warner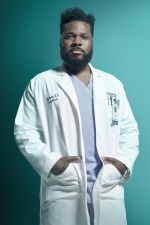 Malcolm-Jamal Warner, Atlanta Medical (The Resident)
© 2018 Fox Broadcasting Co.; Miranda Penn Turin/FOX
Malcolm-Jamal Warner zählt zu jener Gattung von Schauspielern, die ihren größten Erfolg bereits im frühen Alter gefeiert haben. Ganze acht Staffeln lang war er in der Kultserie "Die Bill Cosby Show" als Theo Huxtable zu sehen, und das mit anfangs gerade einmal 14 Jahren. Die Rolle bescherte ihm nicht nur weltweite Bekanntheit, sondern auch eine Nominierung für den Emmy-Award. Insgesamt waren seine Jugenderlebnisse dermaßen prägend, dass er schon als 18-Jähriger seine erste Autobiographie mit dem Titel "Theo and Me (Get Into the Groove)" veröffentlichte.

Geboren wurde Malcolm-Jamal Warner im August 1970 in Jersey City, wo er bei seiner alleinerziehenden Mutter und späteren Managerin Pamela aufwuchs. Seinen Namen hat er einerseits dem Bürgerrechtler Malcolm X und andererseits dem Jazz-Pianisten Ahmad Jamal zu verdanken. Mit neun Jahren entdeckte er in einem Schulkurs die Schauspielerei für sich und verwarf dafür seinen ursprünglichen Kindheitstraum, eine Basketballer-Karrier bei den Los Angeles Lakers. Parallel zu seinem bereits angelaufenen Engagement bei "Die Bill Cosby Show" schloss er später die Professional Childrens' School in New York ab.

Die erste Zeit nach seinem großen Durchbruch gestaltete sich für Warner vergleichsweise schwierig. Zwar konnte er immer wieder Serien- und kleinere Filmauftritte an Land ziehen, an seinen früheren Ruhm knüpfte er damit aber nicht an. Konkret bekleidete er Hauptrollen in den Sitcoms "Malcolm & Eddie" und "Listen Up!", stattet als Andre Bennett der NBC-Sitcom "Community" gelegentlich einen Besuch ab und steht aktuell als Englisch-Professor Alex Reed bei "Reed Between the Lines" vor der Kamera. Seit der Midseason 2018 spielt Warner eine Hauptrolle in der FOX-Krankenhausserie "Atlanta Medical", die in den USA als "The Resident" ausgestrahlt wird.

Neben der Schauspielerei geht Warner noch zahlreichen anderen Interessen nach. Zum einen lebt er mit seiner eigenen Jazz-Formation namens Miles Long seine Musikleidenschaft aus, zum anderen widmet er sich aktiv der Dichtkunst. Großes Aufsehen erregte er darüber hinaus in den 1990ern mit dem vorrangig an Jugendliche andressierten Aufklärungsvideo "Time Out: The Truth About HIV, AIDS and You", bei dem er Regie führte.

Was sein Privatleben anbelangt, so war Malcolm-Jamal Warner lange Zeit mit der Schauspielerin Michelle Thomas liiert, die in "Die Bill Cosby Show" Theos Freundin Justin mimte und 1998 infolge einer schweren Krankheit an seiner Seite verstarb. Daraufhin war er einige Jahre mit Akteurin Karen Malina White zusammen, ehe seine derzeitige Partnerin Regina King sein Herz eroberte.

Willi S. - myFanbase
Ausgewählte Filmographie (Schauspieler)
2018
Atlanta Medical (TV) als Dr. AJ Austin
Originaltitel: The Resident (TV)
2017 - 2018
Girlfriends' Guide to Divorce (TV) als Darrell
Originaltitel: Girlfriends' Guide to Divorce (TV)
2017 - 2018
Sneaky Pete (TV) als James Bagwell / Bagwell
Originaltitel: Sneaky Pete (TV)
2017
Ten Days in the Valley (TV) als Matt Walker
Originaltitel: Ten Days in the Valley (TV)
2016 - 2017
Suits (TV) als Julius Rowe
Originaltitel: Suits (TV)
2017
Lethal Weapon (TV) als David Reed
Originaltitel: Lethal Weapon (#1.11 Lawmen) (TV)
2013 - 2016
Major Crimes (TV) als Chuck Cooper
Originaltitel: Major Crimes (TV)
2016
House of Lies (TV) als Yurgen Celebi
Originaltitel: House of Lies (#5.03 Holacracy) (TV)
2015 - 2016
American Crime Story (TV) als Al Cowlings
Originaltitel: American Crime Story (TV)
2014 - 2015
American Horror Story (TV) als Angus T. Jefferson
Originaltitel: American Horror Story (TV)
2013 - 2014
Key & Peele (TV) als Arthur Washington / Dad
Originaltitel: Key and Peele (#3.03 & 4.07 Sex Detective) (TV)
2014
Sons of Anarchy (TV) als Sticky
Originaltitel: Sons of Anarchy (TV)
2014
The Michael J. Fox Show (TV) als Russell
Originaltitel: The Michael J. Fox Show (#1.12 Party) (TV)
2011 - 2013
Reed Between the Lines (TV) als Dr. Alex Reed
Originaltitel: Reed Between the Lines (TV)
2011 - 2012
Community (TV) als Andre Bennett
Originaltitel: Community (TV)
2008
Ein Schatz zum Verlieben als Cordell
Originaltitel: Fool's Gold
2006
Dexter (TV) als Ritas Anwalt
Originaltitel: Dexter (TV)
2004 - 2005
Listen Up! (TV) als Bernie Widmer
Originaltitel: Listen Up! (TV)
2002 - 2004
Jeremiah (TV) als Kurdy Malloy
Originaltitel: Jeremiah (TV)
1996 - 2000
Malcolm & Eddie (TV) als Malcolm McGee
Originaltitel: Malcolm & Eddie (TV)
1984 - 1992
Die Bill Cosby Show (TV) als Theodore "Theo" Huxtable
Originaltitel: The Cosby Show (TV)
Discographie
2007
Love & Other Social Issues
Miles Long
2003
The Miles Long Mixtape
Miles Long
Steckbrief
| | | |
| --- | --- | --- |
| Geburtstag | | 18.08.1970 |
| Geburtsort | | Jersey City, New Jersey, USA |
Bereiche
Aktuelle Kommentare

26.11.2021 13:44
War diese Woche auch schon ganz durcheinander, weil...
von Lena

24.11.2021 14:35
Ja, aber ich habe Staffel 1 noch nicht durch. Es ist...
von Catherine
mehr Kommentare
Verpasst keine News und Updates