Dominic West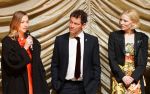 Yvonne Strahovski, Dominic West & Cate Blanchett, "Stateless"-Weltpremiere bei der Berlinale 2020
© Jeanne Plaumann
Manche Serien haben einen derartig legendären Ruf, dass man als ehemaliger Hauptdarsteller wohl immer im Zusammenhang mit diesen angekündigt wird. Die HBO-Show "The Wire" ist so eine Legende und der Engländer Dominic West wird wohl auf ewig mit seiner Rolle des Baltimorer Polizisten Jimmy McNulty in Verbindung gebracht werden, aber er wird auf diesen Ruf sicher sehr stolz sein.

Geboren am 15. Oktober 1969 in Sheffield, begann der Spross einer englischen Großfamilie, er ist eines von sechs Geschwistern, bereits mit neun Jahren in der Schule aktiv Theater zu spielen und behielt sich bis zum Erwachsenwerden diese Leidenschaft. Zunächst machte er aber seinen Schulabschluss und studierte u.a. am berühmten Eton College. Außerdem durchlebte er eine gewisse Orientierungsphase nach dem Studium, welche ihn auch als Viehhüter nach Argentinien verschlug. 1991 folgte dann sein Filmdebüt in einem Kurzfilm namens "3 Joes" und er begann an der Guildhall School of Music and Drama Schauspielerei zu studieren, welche er 1995 mit seinem Abschluss verließ.

Dominic West konnte sich in England und in den Staaten als erfolgreicher Filmdarsteller etablieren. Er verkörperte Rollen in "28 Tage", "Mona Lisas Lächeln" und "Ein Sommernachtstraum". Auch am Theater war er in seiner Heimat weiter sehr aktiv, so trat er regelmäßig am berühmten Nationaltheater von London auf. Seine größte Rolle wartete aber im US-TV mit dem Part in David Simons Gesellschaftsstudie "The Wire" auf ihn, die von vielen Kritikern als die herausragendste TV-Serie ihrer Zeit angesehen wird. Auch im Regiestuhl nahm Dominic West für "The Wire" Platz.

Nach dem Ende der Ausnahmeserie arbeitete West wieder vermehrt in seiner Heimat, auch wenn der ein oder andere Hollywoodstreifen weiter sein Resümee ziert. So stand er u.a. für "300" vor der Kamera. Im britischen TV war aber besonders 2011 ein bedeutendes Jahr für ihn, denn mit "The Hour" übernahm er eine neue Hauptrolle in einer fortlaufenden Serie, für welche er auch mit einer Nominierung als bester Hauptdarsteller in einer Minserie oder einem TV-Film für die Golden Globes 2012 bedacht wurde, und im TV-Film "Appropiate Adult" überzeugte er die Kritiker mit seiner Darstellung des Serienmörders Fred West. Neben all der Arbeit vor der Kamera lässt es sich Dominic West aber auch weiterhin nicht nehmen, aktiv am Theater zu sein und immer wieder in bedeutenden Stücken aufzutreten.

Cindy Scholz - myFanbase
Ausgewählte Filmographie (Schauspieler)
2019 - 2022
Brassic als Dr. Chris Cox
Originaltitel: Brassic (TV)
2022
The Crown (TV) als Prinz Charles
Originaltitel: The Crown (TV)
2022
Downton Abbey II: Eine neue Ära als Guy Dexter
Originaltitel: Downton Abbey: A New Era
2021
The Pursuit of Love (TV) als Uncle Matthew
Originaltitel: The Pursuit of Love (TV)
2020
Stateless (TV) als Gordon Masters
Originaltitel: Stateless (TV)
2014 - 2019
The Affair (TV) als Noah Solloway
Originaltitel: The Affair (TV)
2018 - 2019
Les Misérables (TV) als Jean Valjean
Originaltitel: Les Misérables (TV)
2018
Tomb Raider als Richard Croft
Originaltitel: Tomb Raider
2016
Findet Dorie als Rudder (Stimme)
Originaltitel: Finding Dory
2014
Testament of Youth als Mr. Brittain
Originaltitel: Testament of Youth
2013
Burton and Taylor als Richard Burton
Originaltitel: Burton and Taylor
2012
John Carter - Zwischen den Welten als Sab Than
Originaltitel: John Carter
2011 - 2012
The Hour (TV) als Hector Madden
Originaltitel: The Hour (TV)
2011
Arthur Weihnachtsmann als Lead Elf
Originaltitel: Arthur Christmas
2011
The Awakening als Robert Mallory
Originaltitel: The Awakening
2011
Johnny English - Jetzt erst Recht als Ambrose
Originaltitel: Johnny English Reborn
2011
Appropriate Adult (TV) als Fred West
Originaltitel: Appropriate Adult (TV)
2011
The Lactating Automaton als Erfinder
Originaltitel: The Lactating Automaton
2010
Words of the Blitz als Sir John Colville
Originaltitel: Words of the Blitz
2010
Jackboots on Whitehall als Fiske
Originaltitel: Jackboots on Whitehall
2010
Centurion als General Titus Flavius Virilus
Originaltitel: Centurion
2009
From Time to Time als Caxton
Originaltitel: From Time to Time
2009
Breaking the Mould (TV) als Howard Florey
Originaltitel: Breaking the Mould (TV)
2008
Die Mätresse des Teufels (TV) als Oliver Cromwell
Originaltitel: The Devil's Whore (TV)
2008
Punisher: War Zone als Billy / Jigsaw
Originaltitel: Punisher: War Zone
2008
Hold On als Lieferant
Originaltitel: Hold On
2002 - 2008
The Wire (TV) als Det. James 'Jimmy' McNulty
Originaltitel: The Wire (TV)
2007
The Wire: The Chronicles (TV) als Det. James 'Jimmy' McNulty
Originaltitel: The Wire: The Chronicles (#1.03 2000: Bunk & McNulty) (TV)
2007
Hannibal Rising - Wie alles begann als Inspector Popil
Originaltitel: Hannibal Rising
2006
300 als Theron
Originaltitel: 300
2006
The Catherine Tate Show (TV) als Darsteller
Originaltitel: The Catherine Tate Show (#3.05) (TV)
2006
Stingray als Luther
Originaltitel: Stingray
2004
Die Vergessenen als Ash Correll
Originaltitel: The Forgotten
2003
Mona Lisas Lächeln als Bill Dunbar
Originaltitel: Mona Lisa Smile
2002
Chicago als Fred Casely
Originaltitel: Chicago
2002
Ten Minutes Older: The Cello als junger Mann
Originaltitel: Ten Minutes Older: The Cello
2001
Rock Star als Kirk Cuddy, Steel Dragon Gitarrist
Originaltitel: Rock Star
2001
The Life and Adventures of Nicholas Nickleby (TV) als Sir Mulberry Hawk
Originaltitel: The Life and Adventures of Nicholas Nickleby (TV)
2000
28 Tage als Jasper
Originaltitel: 28 Days
1999
A Christmas Carol - Die drei Weihnachtsgeister (TV) als Fred (Scrooges Neffe)
Originaltitel: A Christmas Carol (TV)
1999
Star Wars: Episode I - Die dunkle Bedrohung als Palastwächter
Originaltitel: Star Wars: Episode I - The Phantom Menace
1999
Ein Sommernachtstraum als Lysander
Originaltitel: A Midsummer Night's Dream
1998
Out of Hours (TV) als Dr. Paul Featherstone
Originaltitel: Out of Hours (TV)
1997
Spice World - Der Film als Fotograf
Originaltitel: Spice World
1997
Diana & ich als Rob Naylor
Originaltitel: Diana & Me
1997
Dunkle Tage in St. Petersburg als Alexei
Originaltitel: The Gambler
1996
True Blue als Donald MacDonald
Originaltitel: True Blue
1996
Mein Mann Picasso als Paulo Picasso
Originaltitel: Surviving Picasso
1996
E=mc2 als Spike
Originaltitel: E=mc2
1995
Richard III als Earl of Richmond
Originaltitel: Richard III
1991
3 Joes als Joe Smoker
Originaltitel: 3 Joes
Ausgewählte Filmographie (Produktion)
2010
The Wire (#5.07 Wer Recht spricht) (TV) als Regisseur
Originaltitel: The Wire (TV)
2010
Watching als Associate Producer
Originaltitel: Watching
2008
Moving On (#2.04 Malaise) (TV) als Regisseur
Originaltitel: Moving On (#2.04 Malaise) (TV)
Steckbrief
| | | |
| --- | --- | --- |
| Geburtsname: | | Dominic Gerard Fe West |
| Geburtstag | | 15.10.1969 |
| Geburtsort | | Sheffield, Yorkshire, England, UK |
Bereiche
Aktuelle Kommentare
Verpasst keine News und Updates