Michael J. Willett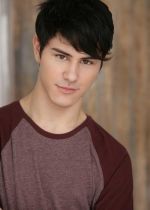 Michael J. Willett
Michael James Mansel Willett kam 1989 in Fresno, Kalifornien zur Welt und wuchs in Central Valley auf. Das schauspielerische Talent und seine beiden mittleren Namen hat er von seinem Großvater, Joe Mansel Willett, geerbt. Schon als kleiner Junge sagte er immer, er wolle Künstler werden, ohne so recht zu wissen, was das bedeutete. Er wusste nur, dass er etwas erschaffen wollte. So spielte er in der High School in Theaterstücken bzw. Musicals wie "The Wiz" und "Little Shop of Horrors" mit.

Mit sieben Jahren spielte er in der Produktion der Children's Musical Theaterworks von "Annie" die Rolle des Bert Healy und hatte die Titelrolle in "Willy Wonka" (später verfilmt als "Charlie und die Schokoladenfabrik" mit Johnny Depp).

Michael besuchte die Clovis West High School. Der aus "Glee" als Kurt Hummel bekannte Chris Colfer besuchte die Clovis East. 2003 teilten sich die beiden sogar die Rolle des Artful Dodger in "Oliver".

2010 landete er die Nebenrolle des Lionel in der zweiten Staffel von "United States of Tara".

Nicole Oebel - myFanbase
Ausgewählte Filmographie (Schauspieler)
Steckbrief
| | | |
| --- | --- | --- |
| Geburtsname: | | Michael James Mansel Willett |
| Geburtstag | | 11.09.1989 |
| Geburtsort | | Fresno, Kalifornien |
Bereiche
Aktuelle Kommentare

17.09.2021 23:55
Ich stimme mit deiner Review überein! Es war...
von Sonia

17.09.2021 23:29
Danke dir! Haha ja stimmt, Tom als neues...
von Sonia
mehr Kommentare
Verpasst keine News und Updates