Malese Jow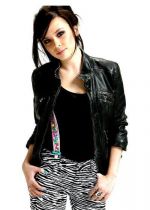 Malese Jow
Malese Jow wurde am 18. Februar 1991 als Elizabeth Melise Jow in Tulsa, Oklahoma geboren. Schon als Kind war ihr bewusst, dass sie Schauspielerin und Sängerin werden will. Im Alter von sieben Jahren sammelte sie erste Erfahrungen als Sängerin. Sie eröffnete unter anderem Shows von Brenda Lee, George Jones und Ray Price. Durch diese Auftritte wurde der Konzern McDonalds auf sie aufmerksam und engagierte sie für Werbeauftritte im Radio und Fernsehen. Einige Jahre später trat sie dann in "Next Big Star" neben Katherine McPhee und Lisa Tucker auf, beide wurden später durch "American Idol" bekannt. Bei dem Moderator der Show, Ed McMahon, hinterließ sie einen positiven Eindruck und wurde nur kurze Zeit später von ihm auf eine Tour mit seiner Crew eingeladen.

Neben ihrer Gesangskarriere wollte die amerikanische Schauspielerin mit chinesischen und cherokeesischen Wurzeln auch ihre Karriere als Schauspielerin voran treiben. Sie nahm an verschiedenen Castings teil und wurde als Geena Fabiano für die Nickelodeon-Serie "Unfabulous" gecastet. Die Rolle machte sie weltweit bekannt, vor allem unter Jugendlichen. Nachdem die Serie nach drei Staffeln beendet wurde, trat sie in verschiedenen Filmen, unter anderem "Bratz", und Serien auf. Seit 2010 ist sie als Anna in "Vampire Diaries" zu sehen.

Neben ihrer Schauspielkarriere investiert sie viel Kraft und Zeit in die Musik. Sie schreibt stetig neue Songs und nimmt mit verschiedenen bekannten Produzenten, unter anderem PJ Bianco, dem Produzenten der Jonas Brothers, Lieder auf. Ihre Vorbilder sind Pat Benatar, Paramore und Patsy Cline. Ende 2010 soll ihre erste Tournee in den USA starten.

Sophie Blumengarten - myFanbase
Ausgewählte Filmographie (Schauspieler)
2015
The Flash (TV) als Linda Park
Originaltitel: The Flash (TV)
2014
Star-Crossed (TV) als Julia Yeung
Originaltitel: Star-Crossed (TV)
2011
Troop - Die Monsterjäger (TV) als Cadence
Originaltitel: The Troop (#2.01 The Triangle) (TV)
2010
Vampire Diaries (TV) als Anna
Originaltitel: The Vampire Diaries (TV)
2010
Gigantic (TV) als Maggie
Originaltitel: Gigantic (#1.03 Black and White and Red All Over) (TV)
2010
You're So Cupid! als Megan
Originaltitel: You're So Cupid!
2010
The Social Network als Alice
Originaltitel: The Social Network
2010
Leverage (TV) als Josie
Originaltitel: Leverage (#3.08 The Boost Job) (TV)
2009
iCarly (#2.13 Ein Colt für alle Fälle) (TV) als Fake Carly
Originaltitel: iCarly (TV)
2009
The Secret Life of the American Teenager (TV) als Gail
Originaltitel: The Secret Life of the American Teenager (TV)
2009
Hannah Montana (#3.18 Jake oder Jesse - Teil 1 & #3.19 Jake oder Jesse, Teil 2) (TV) als Rachel
Originaltitel: Hannah Montana (TV)
2009
Die Noobs - Klein aber gemein als Julie
Originaltitel: Aliens in the Attic
2008
Schatten der Leidenschaft (#8992 & #8993) (TV) als Hannah
Originaltitel: The Young and the Restless (TV)
2007
Bratz als Quinn
Originaltitel: Bratz
2004 - 2007
Unfabulous (TV) als Geena Fabiano
Originaltitel: Unfabulous (TV)
2007
Die Zauberer vom Waverly Place (#1.13 Der Horrorfilm) (TV) als Ruby Donahue
Originaltitel: Wizards of Waverly Place (TV)
2007
Mother Goose Parade
Originaltitel: Mother Goose Parade
2003
The Brothers Garcia (TV) als Celeste
Originaltitel: The Brothers Garcia (#4.04 Right Place, Right Time) (TV)
2001 - 2002
Next Big Star (TV)
Originaltitel: Next Big Star (TV)
1997
Barney & Friends (TV) als Mädchen auf der Teeparty
Originaltitel: Barney & Friends (#4.03 Pennies, Nickels, Dimes) (TV)
1997
Dellaventura (TV) als Waise
Originaltitel: Dellaventura (#1.10 Dellaventura) (TV)
Steckbrief
| | | |
| --- | --- | --- |
| Geburtstag | | 18.02.1991 |
| Geburtsort | | Tulsa, Oklahoma, USA |
Bereiche
Aktuelle Kommentare

17.01.2021 22:36
Das hilft dann schon mal weiter, weil Emilio in Episode...
von Catherine

16.01.2021 10:31
"denn die inhaltliche Dichte ist durch die Vielzahl von...
von Irina S.
mehr Kommentare
Verpasst keine News und Updates