Mariana Klaveno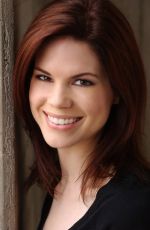 Mariana Klaveno
Mariana Klaveno ist seit 2004 im Filmgeschäft. Sie wuchs auf dem Lande in der Nähe von Washington State auf. Gemeinsam mit ihren drei älteren Geschwistern half sie bei der Farmarbeit. Nachdem sie ihren High-School-Abschluss in der Tasche hatte, studierte sie Theater an der University of Washington in Seattle und schloss mit Auszeichnung ab. Marina ließ sich an der University of Washington von dem ehemaligen künstlerischen Leiter des Schauspieltheaters von Louisville, Jon Jory, ausbilden.

Später zog sie nach Los Angeles, wo sie ihre Ausbildung bei dem geschätzten Schauspiellehrer Cameron Thor fortsetzte. Ein Treffen mit J.J. Abrams brachte ihr eine Gastrolle in der Actionserie "Alias - Die Agentin". Sie spielte in der Episode #4.17 Reines Gewissen eine kaum erwähnenswerte Nebenrolle. 2006 sah man sie in den US-Serien "In Justice" und "Laws of Chance", doch so richtig stellte sich der erwünschte Erfolg nicht ein.

Das sollte sich mit ihrer Gastrolle in der Crimeserie "Standoff" im selben Jahr jedoch ändern. 2007 drehte Mariana gleich drei Filme, einen Kinofilm und zwei Fernsehfilme. In "While The Children Sleep" konnte sie sich sogar eine Hauptrolle ergattern. Es folgten weitere Gastauftritte in bekannten US-Serien wie "Emergency Room - Die Notaufnahme" und "K-Ville". 2009 stieß sie zum Hauptcast von Alan Balls erfolgreicher Vampirserie "True Blood" und spielte ihre bis dahin größte Rolle als Vampiress Lorena. 2013 ergatterte sie eine Hauptrolle in der Dramaserie "Devious Maids" von "Desperate Housewives"-Schöpfer Marc Cherry.

Dana Greve - myFanbase
Ausgewählte Filmographie (Schauspieler)
2014
Stalker (TV) als Janice Lawrence
Originaltitel: Stalker (TV)
2013
Devious Maids (TV) als Peri Westmore
Originaltitel: Devious Maids (TV)
2008 - 2012
True Blood (TV) als Lorena Krasiki
Originaltitel: True Blood (TV)
2011
Hawaii Five-0 (TV) als Julie Adelman
Originaltitel: Hawaii Five-0 (#1.16 E Malama) (TV)
2011
Criminal Minds: Suspect Behavior (TV) als Veronica Day
Originaltitel: Criminal Minds: Suspect Behavior (#1.10 The Time Is Now) (TV)
2011
The Carrier als Amanda
Originaltitel: The Carrier
2010
No God, No Master als Louise
Originaltitel: No God, No Master
2008
SideWalk Situations (Rose Meets Flora) als Rose
Originaltitel: SideWalk Situations (Rose Meets Flora)
2008
Emergency Room - Die Notaufnahme (#14.17 Mit Gewalt) (TV) als Rebecca
Originaltitel: ER (TV)
2007
K-Ville (#1.02 Giftiger Sumpf) (TV) als Kelly Vert
Originaltitel: K-Ville (TV)
2007
Final Approach - Im Angesicht des Terrors (TV) als FBI Agent Harris
Originaltitel: Final Approach (TV)
2007
While the Children Sleep (TV) als Abby Reed
Originaltitel: While the Children Sleep (TV)
2007
First Period als Ms. Hendricks
Originaltitel: First Period
2006
Standoff (#1.04 Komplizen) (TV) als Kari Nichols
Originaltitel: Standoff (TV)
2006
The Lifestyle als Trixie
Originaltitel: The Lifestyle
2006
Though None Go with Me (TV) als Carrie
Originaltitel: Though None Go with Me (TV)
2006
In Justice (#1.03 Golden Boy) (TV) als Carolyn Hunter
Originaltitel: In Justice (#1.03 Golden Boy) (TV)
2006
Laws of Chance (Episode: Original) (TV) als Allison Mayner
Originaltitel: Laws of Chance (Episode: Original) (TV)
2005
Alias - Die Agentin (#4.17 Reines Gewissen) (TV) als junge Frau
Originaltitel: Alias (TV)
2004
Good Girls Don't... (#1.05 The Big O) (TV) als Mercedes
Originaltitel: Good Girls Don't... (#1.05 The Big O) (TV)
2004
Game Box 1.0 als Michelle
Originaltitel: Game Box 1.0
Steckbrief
| | | |
| --- | --- | --- |
| Geburtstag | | 25.10.0197 |
| Geburtsort | | Endicott, Washington, USA |
Bereiche
Aktuelle Kommentare

16.09.2021 11:03
Mir hat der Auftakt auch Freude bereitet. Ich finde es...
von Lena

15.09.2021 23:40
Ach ja... Ich habe mir den Film angesehen, da ich als...
von Pebbels
mehr Kommentare
Verpasst keine News und Updates