Katrina Bowden stößt zum Cast von "Reich und schön"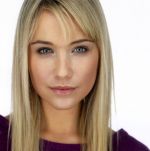 Katrina Bowden
Die aus "30 Rock" bekannte Katrina Bowden hat sich einen Part in der amerikanischen Daily-Soap "Reich und schön" (Originaltitel: The Bold and the Beautiful) gesichert. Sie übernimmt die Hauptrolle der Flo, die eine gemeinsame Vergangenheit mit Dr. Reese Buckingham (Wayne Brady) hat.

Bowdens erster Auftritt in "Reich und schön" wird am 14. Januar 2019 bei CBS ausgestrahlt.

Externer Inhalt
An dieser Stelle ist Inhalt von einer anderen Website (z. B. YouTube, Twitter...) eingebunden. Beim Anzeigen werden deine Daten zu der entsprechenden Website übertragen.
Quelle: TVLine
Catherine Bühnsack - myFanbase
10.12.2018 22:47
Weitere News
mehr News
Meistgelesen
Verpasst keine News und Updates