Party of Five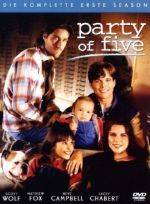 © Sony Pictures Home Entertainment
Die Teen-Dramaserie "Party of Five" von Christopher Keyser und Amy Lippman, produziert von Columbia Pictures Television, startete im September 1994 auf FOX in den USA und wurde trotz sehr guter Kritiken aufgrund niedriger Einschaltquoten beinahe nach der ersten Staffel schon abgesetzt. Für die zweite Staffel aber konnte die Serie überraschend den Golden Globe für Beste Dramaserie einheimsen und zählt damit zu den Serien mit den niedrigsten Einschaltquoten, die jemals mit diesem Award ausgezeichnet wurde. Die Quoten stiegen in den Folgejahren auf bis zu 11.5 Millionen Zuschauer, begannen aber im fünften Jahr wieder zu sinken, so dass die Serie mit der sechsten Staffel beendet wurde.

Parallel zur letzten Staffel startete 1999 auch das Spin-Off "The Time of Your Life", die sich auf Jennifer Love Hewitts Charakter Sarah konzentrierte. Nach nur 12 von 19 Episoden aber wurde die Serie frühzeitig abgesetzt, denn trotz Hewitts Popularität waren die Einschaltquoten sehr niedrig.

---
Serienmacher: Christopher Keyser, Amy Lippman
US-Starttermin: 12.09.1994 auf FOX
Staffeln:

Partnerlinks zu
---
Als die Eltern der fünf Salinger-Geschwister bei einem Unfall sterben stehen Charlie, Bailey, Julia, Claudia und der kleine Owen alleine da. Der vierundzwanzigjährige Charlie übernimmt die Rolle des Familienoberhauptes und gemeinsam versuchen sie den Alltag zu meistern, was nicht immer so einfach ist... mehr


Die Darsteller der Dramaserie waren vor ihrem Engagement bei "Party of Five" alle noch nicht sehr bekannt, aber die Serie stellte für viele ein Sprungbrett dar. Neve Campbell wurde anschließend für Kinorollen in Blockbustern wie "Scream" engagiert, Matthew Fox wurde Hauptdarsteller bei "Lost"... mehr


Die Geschwister Charlie, Bailey, Julia, Claudia und Owen Salinger müssen nach dem Tod ihrer Eltern alleine auskommen, und das ist alles andere als einfach. Der Älteste ist gerade erst 24 Jahre und steht plötzlich vor der Aufgabe, drei Teenager und ein Baby zu versorgen... mehr

"Party of Five" ist ein schön konstruiertes Familiendrama der neunziger Jahre, das mit sehr vielen noch heute überaus aktiven (Gast-)Darstellern aufwartet. Die Darstellung der Inhalte ist kreativ gestaltet und kann mit andauernder Spannung überzeugen... mehr


In "Party of Five" kam es immer wieder zu interessanten Gastauftritten von bekannten Schauspielern. Wir stellen euch hier einige davon vor...mehr

Externer Inhalt
An dieser Stelle ist Inhalt von einer anderen Website (z. B. YouTube, Twitter...) eingebunden. Beim Anzeigen werden deine Daten zu der entsprechenden Website übertragen.
Kommentare
Meistgelesen
Aktuelle Kommentare
Verpasst keine News und Updates