Exclusive interview with Norman Reedus
Feb 17, 2012 | Norman Reedus plays the role of Daryl Dixon on the AMC hit show "The Walking Dead". In our interview he talks about how he got into acting, what he likes about Daryl, what he hopes for his character and how the actors deal with the walkers on set.

---
Note: © myFanbase 2011 - The interview is exclusive to myFanbase and may not be published on other websites or the like. You may share the first 2 questions or up to 160 characters if you link back to this site. Translations other than English and German may be posted with full credit including the writer's name and link to this site.
---
1. How did you get into acting?

I followed a girl to Los Angeles and was immediately dumped. I got a job at a motorcycle shop in Venice called "Dr. Carls Hog Hospital". The day I quit that job a friend took me to a party up in the hills, a movie people party. I drank way too much and started screaming at the party from the second story of the living room with these giant sunglasses on, someone asked if I wanted to be in a play and took me for pizza to talk about it. They told me I would get paid so I did it. The first night of the play a wonderful angel of a woman, who was an agent saw me and side pocketed me. Hip pocketed me. Whatever you call that and then I booked some stuff and kept running ever since.

2. Your "The Walking Dead" character Daryl does not appear in the comics. How do you prepare for the part and does Robert Kirkman give you something to work with?

Well, when I first started I hadn't really had any conversations about Daryl with anyone, so I kinda knew where I wanted to go with Daryl or had hoped to take him anyway and tried to give him some redeeming qualities. Still a kid that lost everything and that included his mean ass brother. As much of a jerk Merle is he's still my brother. The writers and producers on the show are still helping me mold him in to someone we can watch grow, someone who doesn't know who he is completely, he doesn't know how to deal with people so much. I don't think he ever even thought about it to be honest, now heís forced to, to get along. To make it work. Itís interesting I think to watch him figure it out. Everyone helps with all of this. Kirkman, the other cast, the writers, directors. Gale (Gale Anne Hurd, executive producer) etc.. Everyone helps each other, I think we are all honestly invested. Even with each other.

3. Did you know the comics before and were they what drew you to audition for "The Walking Dead"?

You know I didnít really. I quickly found out tho. The popularity of it all. Itís such a rich world. Such interesting stuff. I auditioned because of the people involved and the pilot which was brilliant.

4. Do you get a lot of immediate fan reaction since "The Walking Dead" started airing?

A lot. Itís fun to get this kind of love from playing someone who is pretty unlovable at least as far as what he thinks of himself. My apt is full of wonderful art and gifts I get every day. Paintings, sculptures, dolls, clothes etc. Daryl has made a lot of friends, so have I and Iím over the moon about it. Heíd kill all the squirrels, feed all of y'all. (I would too).

5. What is your favorite part of playing Daryl?

The discovery part I think. I like being an open book. I like not having an ending. In a film I know when it ends. With this I have no idea when it does. It makes it always seem like Iím in 4th gear. Like real life I guess.

6. Daryl is one of the fan favorites of the show. Has it been difficult to make this guy likable, especially in season one?

No it hasnít. I think heís extremely vulnerable. And I care for those people so I see the part of him that wants to be your friend. He isnít phony. If heís your friend, if he cares about you. He really cares about you. He would do anything for you. Thatís a beautiful thing I think.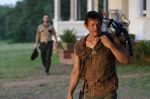 © Gene Page/AMC
7. Daryl has become more and more gentle recently. What do you think about the development of your character?

I enjoy it. He could have so easily gone the other way and not be anything other than a fuck you machine. He still might. Itís a thing, to keep him layered and interesting. Thatís the job.


8. Can you identify with Daryl? Or can you imagine being in his position?

A bit, he reminds me of me sometimes, not the happiest of times, heís interesting to me too. Iím curious where heís headed. I can, I guess.

9. The makeup of "The Walking Dead" is unique. Is it creepy when you walk into a zombie on and behind the set?

How good is Nicotero?!! Right?!! The thing about them when you really look at some of them you can see their history. They look so sad. Like they know. Really expressive features, horrifying and scared themselves. On set itís pretty much the routine to high five a zombie while slamming a bag of Cheetos.

10. "The Walking Dead" is renewed for a third season. What storyline would you like to see Daryl in?

I'd like him to question authority. Question everything really and to meet his brother again. To fight for them all. Befriend them, earn their trust. To become his own person. 10 feet tall.

11. Merle is still missing and the chances for him being alive are quite low, yet Daryl still hopes for the best. Would you like to see a reunion between these brothers?

I would love to have them reunite they are brothers first. Nothing better than that. Could get pretty explosive with the whole sheriff thing.

12. If you could spend a day with any living or dead person, who would it be and what would you do?

My dad. I have some questions. Maybe play golf, he used to play golf. Iím not very good.

13. myFanbase is a website that is devoted to American television shows. Do you have one or more favorite show(s)?

Oh man I have some right now Iím loving. "East Bound and Down", "Carnivale", "Mad Men", "Breaking Bad". I loved "Curb Your Enthusiasm", and also "Arrested Development". I still love "Saturday Night Live" so much... You ever see "Wonder Showzen"? I like that too.

Eva Klose - myFanbase

Meistgelesen
Aktuelle Kommentare

17.09.2020 22:29
An die Szene kann ich mich wirklich gut erinnern, auch...
von Daniela

17.09.2020 22:13
Im Nachhinein würde ich die Episode #3.08 auch deutlich...
von Annika
mehr Kommentare
Verpasst keine News und Updates