Here and Now
Mit "Here and Now" hat der US-Kabelsender HBO eine neue Serie von Alan Ball ("True Blood") geordert. In den Hauptrollen sind Jerrika Hinton und Holly Hunter zu sehen. In den USA startet die zehn Episoden umfassende erste Staffel am 11. Februar 2018. In Deutschland ist die Serie ab dem 12. Februar 2018 bei Sky Atlantic HD zu sehen.

---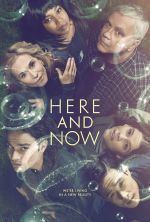 Here and Now
© 2018 Home Box Office, Inc. All rights reserved. HBO® and all related programs are the property of Home Box Office, Inc.
Serienmacher: Alan Ball
US-Starttermin: 11. Februar 2018 auf HBO
D-Starttermin (Pay): 28. März 2018 auf Sky Atlantic HD
Staffeln:


News zur Serie:

---

Das Ehepaar Greg (Tim Robbins) und Audrey (Holly Hunter) stammt aus Portland und hat eine progressive und multikulturelle Familie. Greg ist Philosophie-Professor, während Audrey als Anwältin und Konfliktlösungsberaterin an der lokalen High School arbeitet. Neben ihrer leiblichen Tochter Kristen (Sosie Bacon) haben Greg und Audrey noch drei weitere Adoptivkinder: Ashley (Jerrika Hinton), Duc (Raymond Lee) und Ramon (Daniel Zovatto). Alle haben ihre Schwierigkeiten im Leben und die Konflikte innerhalb der Familie kommen immer deutlicher zum Vorschein.


Im Hauptcast von "Here and Now" spielen:

Daniela meint: Ich bin vor allem durch die Inhaltsangabe auf die Serie aufmerksam geworden, die von einer Familie handelt, die neben einem leiblichen Kind auch drei adoptierte hat, die aber schon erwachsen sind und bei denen viel Konfliktpotenzial besteht... mehr

Kommentare
Meistgelesen
Aktuelle Kommentare

16.06.2021 11:49
Damit sollten wohl die Tage von "The Blacklist" nach...
von Lena

15.06.2021 17:50
Savemanifest bei Chance.org für eine 4 Staffel<
von John 80
mehr Kommentare
Verpasst keine News und Updates