"House of Cards" mit Sendetermin auf Sat.1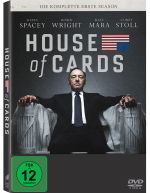 © 2013 MRC II Distribution Company L.P. All Rights Reserved.
Das Onlineportal Netflix konnte vergangene Season mit seiner ersten Originalserie "House of Cards" große Erfolge feiern. Das von Kevin Spacey angeführte Serienprojekt dreht sich um den Washingtoner Politiker Frank Underwood (Spacey), Mitglied des Repräsentantenhaus mit eigener politischer Agenda. Nachdem er vom der neuen Regierung für den fest versprochenen Posten des Außenministers übergangen wurde, intrigiert er nun gegen den Präsidenten und plant diesen zu stürzen. Dabei unterstützen ihn seine ebenso ruchlose Ehefrau Claire Underwood (Robin Wright), sowie die junge Journalistin Zoe Barnes (Kate Mara)

Bisher konnten Serienfans in Deutschland nur per DVD-Kauf bzw. Sky Atlantic HD in den Genuss von "House of Cards" kommen, doch nun gibt es auch endlich einen Starttermin fürs deutsche Free-TV: Wie DWDL meldet, wird Sat.1 die erste Staffel ab dem 10. November immer sonntags um 23:15 Uhr ausstrahlen und wird damit immer nach neuen Folgen von "Hawaii Five-0" laufen. Insgesamt umfasst die erste Season von "House of Cards" 13 Episoden.

Eine zweite Staffel von "House of Cards" ist bereits gesichert.
Quelle: DWDL
Maria Gruber - myFanbase
03.10.2013 14:32
Weitere News
Meistgelesen
Verpasst keine News und Updates